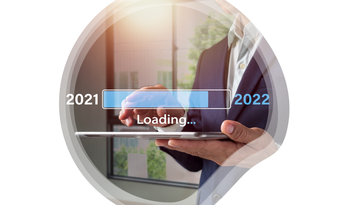 After an unconventional year like 2020, with an unexpected pandemic putting the whole world on a hold, 2021 was largely expected to be back to "business as usual" with employees returning to the office as vaccines became available and the threat of COVID dwindled.
Of course, nothing has proven to be that simple. Although progress is being made and everything indicates that we are getting closer to "normal," we are just not there yet and might never be back to exactly where we were before; we are likely heading towards a new normal. The pandemic has not only challenged us all from a personal perspective, but also enterprise, having to adapt to new, sometimes unexpected scenarios and challenges that have arisen. 
2022: Trends to Look Forward to
Digital Workplace Is Here to Stay
Often not considered or limitedly implemented in some companies prior to the pandemic, remote working became the main option for most companies to keep their employees working and the business running. However, what was once a temporary workaround has slowly become the de facto process and tools for many businesses, especially the ones relying on technologies for day-to-day work, where business tasks can virtually be taken care of remotely. This new paradigm has some huge benefits for both the employees and the company: convenience, reduction in greenhouse gases, better work-life balance and flexibility, and smaller offices required (or none), translating into lesser office expenses (rent, heating, electricity, etc.) It also opens the opportunity for talented people who might not be willing to move to a specific city or location to start working remotely.
Unstoppable Move to the Cloud
It is no surprise that most business, no matter their size, are transitioning from using local, on-premises architecture to using cloud-based services to ease day-to-day administration, reduce Total Cost of Ownership (TCO), and offer services to their users consistently and securely amongst all their devices, wherever they are. Some business may embrace some of the cloud-based solution while retaining some of their on-prem architecture (called a hybrid environment) in specific cases, for example, when dealing with valuable, private data (internal or customers) that it is still not safe or recommended to store on the cloud, usually enforced by data privacy standards and regulations. But the move to the cloud is a one-way journey now.
Optimizing Security Posture
The move to the cloud also brings other challenges that need to be addressed seriously by the enterprise to ensure the same level of productivity and security, no matter where employees are physically located: protect data, secure devices, and secure the connection. From SoHo, SME to Large, International Enterprises, many businesses are reviewing their security posture and ensuring it is adapted to their business and the new challenges of the digital workspace, including cybersecurity threats.
Many businesses are also reviewing all the costs related to their enterprise mobility. Best practices for enterprises include reviewing current service subscriptions and bundling as many services as possible from the same provider(s) to reduce final cost, simplify products integration, and lower the day-to-day administration effort. Businesses are also defining a limit for the number of devices every employee can use, provision for work tasks, and perform regular "house cleaning" maintenance to ensure unused devices and/or unnecessary subscriptions are disabled. While this seems like a lot of work to do in a large infrastructure, this can be performed using Lifecycle Management solution, that dynamically takes care of these tasks, connecting all the different systems involved (UEM, TEM, etc.) to optimize enterprise mobility expenses.
We strongly recommend you review our recent articles about that topic (Security Maturity Model, Part 1, Security Maturity Model, Part 2), providing Best Practices for enterprises to improve their security posture progressively, as your business grows.
Looking Beyond 2022
Today, using Virtual Private Network (VPN) remains the best options to securely exchange sensitive, private data over unsecured, unmanaged public networks (e.g., the Internet), safe from potential attacks or intrusions. However, with the huge progress made with quantum computing in the last few years, everything indicates that this technology could soon be used to break that security. Although we are not there yet, many vendors have already taken a step ahead and are working on an alternative solution that would be protected from quantum computing powered cyberattacks, like Verizon with their https://www.makeuseof.com/verizons-quantum-safe-vpn/
It's safe to say that with the dawn of 2022 and employees still working remotely or in hybrid situations, we can look forward to enterprises continuing their migration to a completely digital workplace and cloud-based services. Though with this shift comes the need to ensure the same level of security and protect data for employees no matter where they are located. No matter the size or how widely deployed your ecosystem is, understanding your business and the operational needs of your cybersecurity solution is paramount in providing the right solution to address your specific vulnerabilities. The team at ISEC7 can provide an objective assessment of what can address the needs of your organization and/or risk mitigation needed to enhance your current solution. Please feel free to contact us for consultation or if you have any questions as your organization heads into 2022. 
Contact
(C) Rémi Frédéric Keusseyan, Global Head of Training, ISEC7 Group