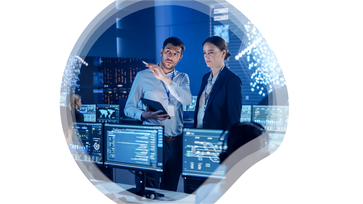 In our last article, we talked about behavior-based security, a whole new approach to answer today's security challenges by preventing an attack before it even happens. This may have seemed outlandish even a few years ago but is now a reality thanks to progress made in areas like Artificial Intelligence (AI), Machine Learning (ML), and Big Data technologies, providing the tremendous computational power required to finally get in front of an attack.
This week we will introduce a next generation cyber security solution using said technologies, from one of the most renowned vendors in mobile security: BlackBerry Cyber Suite.
BlackBerry Cyber Suite is a comprehensive Unified Endpoint Security (UES) solution suite that prevents, detects, and responds to cybersecurity threats. It integrates natively with BlackBerry unified endpoint management (UEM) software to provide an extra layer of security and device management. BlackBerry Cyber Suite is also compatible with UEM software from other vendors as well.
The solution consists of several discrete modules, each with a specific role and function, which can work either independently or together depending on the needs of each customer environment. 
BlackBerry Protect
BlackBerry Protect detects and blocks malicious threats before they can affect a device.
Its protection includes automated malware prevention, application and script control, memory protection, and device policy enforcement. It uses a mathematical model to identify malware and potential cybersecurity threats, and it does this with a minimal use of system resources by leveraging the cloud-based Artificial Intelligence (AI) and Machine Learning (ML) CylanceINFINITY services.
Contrary to reactive techniques relying on signatures, this new approach prevents future threats based on mathematical models.
BlackBerry Persona
BlackBerry Persona uses a behavioral model which monitors user activities and can detect any deviations that would indicate potential risks, such as accessing work resources from a different or unknown location at an unusual time, or from an unknown, non-trusted device. Information like app usage, network accesses, process invocation patterns, and others are used to create this behavioral model.
Whatever is detected as "unusual," the risk score is increased, and the service then takes specific measures to adapt the device and app's behavior to that level of risk. For example, even when using a known, trusted device and being able to authenticate using different methods, a user still might not be allowed to access specific resources if the location is determined as unsecured (e.g., foreign country or airport) as per company security policies.
BlackBerry Gateway
BlackBerry Gateway provides Zero-Trust network access to endpoints, with end-to-end security, and this for both private and on-premises but also public, cloud-based Software-as-a-Service (SaaS) solutions (e.g., Microsoft 365, SFDC, etc.) by continuously analyzing user actions and detecting unexpected or anomalous behavior. If so, it would require additional authentication or otherwise prevent access to the corresponding resources until the risk level is mitigated.
It is compatible with both public and private/in-house apps, without any need to reconfigure or adapt them, and only routes necessary traffic through your internal network, which helps prevent overloading your VPN and preserve battery life, which is crucial for end-users, especially when travelling. It ensures that private data is kept private no matter when or where your users are connecting from, and all data-in-transit is encrypted using TLS technology.
BlackBerry Optics
BlackBerry Optics tracks, alerts, and responds to malicious scenarios by collecting information from the endpoints using sensors. Through continual monitoring and growth of its math model, it then aggregates and stores that data to a cloud-based analytics infrastructure for its later analysis using Artificial Intelligence (AI), trying to find recognizable patterns that could predict potential threats and complex attacks now and in the future.
Prevention is the Ultimate Protection
BlackBerry pulls from multiple disciplines to deliver a comprehensive answer to major security risks we are all facing today, from consumers to companies and public entities. Hackers do not only go after top dollars; they will also go after your pocket if they can get some money there.
We have discussed some of the latest cybersecurity attacks, damaging major infrastructure with tremendous impacts on our everyday lives, wherein companies had to pay some hefty ransoms to get their infrastructure and/or data back. Although it is an investment to implement a superlative security solution, investing in your cyber security now would save you significant time and effort when you get attacked. The real cost cannot be calculated as it is your reputation that takes the biggest hit.
BlackBerry has demonstrated that their solution could have prevented these recent Zero-day exploit attacks while running offline (e.g., on an isolated segmented network). The "magic" behind this next generation security is that you can take control by detecting and preventing any new threats, rather than waiting for them to happen and doing extensive damage control afterwards.
While there is no perfect security solution that can cover you 100%, BlackBerry Cyber Suite can cover 99%, so you only need to focus on the remaining 1% through asserting your own environment for improvements, training your employees on security best practices, etc.
BlackBerry Cyber Suite is available for both desktop computers (Windows, macOS, Linux) and mobile devices (iOS, Android/Chromebook). ISEC7 is your premier BlackBerry partner that can help you understand your needs against the functionality of the UES product suite. Please do not hesitate to contact us with any questions; we are pleased to assist you and help you navigate this resource.
Contact
(C) Rémi Frédéric Keusseyan, Global Head of Training, ISEC7 Group