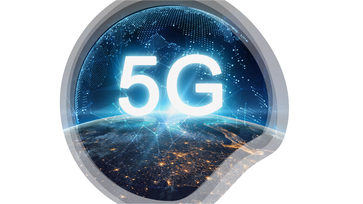 Increased availability and adoption of 5G technology means a more connected world, which in turn means more users with a greater variety of devices. While this means that IT security teams will have more to manage, many of the leading security vendors have been planning for 5G for years.
Organizations should be doing all of the same things they do for data security over other wireless and cabled networks, as well as planning for the increased bandwidth and ensuring their networks are capable of handling the increased load.
"5G networks, especially the ability to slice a network, offers the option for some interesting applications, especially from an IT security perspective," said Dirk Schrader, global vice president of security research at New Net Technologies (NNT), a provider of cybersecurity and compliance software.
He explained a company's virtual private network, realized using 5G access, offers a host of advantages, the enormous bandwidth being the first.
Still, as there is no "100% secure" technology, Schrader noted 5G used in an enterprise environment will require security experts to know the details of that networking technology, the concepts, the functionality of nodes, and they will also have to deal with similar topics like those in cloud services, SLAs and security audits for the 5G provider.
"It is an additional networking layer, which needs monitoring; this monitoring has to work at high capacities, having the speed of transmission in mind," he said.
5G Will Require Adjustment
Standard technologies available in today's next-generation firewalls, like DPI, will likely become a bottleneck, just as performance of any given SIEM needs to be adjusted.
"All this is in the early stages for most of the companies, as the investment in such approach is substantial," he said. "Most companies will consider generic 5G networks and respective devices to have another IP access option for leveraging existing VPN installations."
As there are myriad options for deploying 5G, with cloud-native virtual network functions and old-school physical network functions in the same network, the complexity that needs to be monitored and covered by contractual terms is likely to be challenging for most companies.
"5G IoT devices can increase productivity, reduce cost and even save lives, in some cases, but they all need to be secured just like any other device that connects to your network," explained Alex Dolce, security systems engineer at Lookout, a provider of mobile security solutions. "More connected devices will also introduce more vulnerabilities and attack vectors than ever before. This means the attack surface will continue to grow for threat actors."
Increased Productivity; Increased Attack Surface
Though 5G speed can bring vast increases in productivity, it also means that users will be doing their work outside of the secure perimeter of the office because they no longer have to compromise performance to do so.
As Dolce noted, the drawback is that it is difficult to maintain visibility into threats outside of your perimeter.
"From what we've seen so far, many organizations have been planning for 5G, but they don't yet know the technical nuances that enable them to put together an effective plan proactively," he said. "The key to preparing a security strategy for 5G right now is education."
Dolce recommended organizations learn as much as possible from security experts before they begin and continue to engage with them as they grow.
"Security methods and practices of the past do not always apply to 5G, so it's important to be able to leave those behind when needed and look forward," he said. Adoption of a security strategy that accounts for bring-your-own-device (BYOD) will be key to managing this risk."
Dolce pointed out it's no longer practical to force employees to use a particular device, as the world has gone both remote and mobile; nor can you guarantee that a particular user or team within your organization is storing sensitive corporate data on SaaS apps that have been reviewed by IT security.
"Adopting a comprehensive BYOD strategy coupled with the proper security tools will ensure that your users can work on the devices and apps that they use most, while maintaining a strong security posture," he said.
Shawn Smith, director of infrastructure at nVisium, an application security provider, argued that the security strategy for 5G won't going to change much in comparison to other Wi-Fi/cellular network security strategies.
"Since 5G is just a transfer medium, the main things to cover like encryption and data security don't apply as they are already handled at another layer of the strategy planning," he said. "The one thing that should be noted is the increased bandwidth will need to be managed to prevent network floods, bottlenecks and denial of service issues."
He noted the main vulnerability of 5G is that it's a wireless transfer medium, so data can be intercepted by anyone listening.
"We already have Wi-Fi and cell networks, though, so this isn't a new vulnerability that hasn't already been planned for," he said. "At the end of the day, it's just a transfer medium, and by the time your data is on the medium it should be sufficiently encrypted and protected."
Contact
Source: https://bit.ly/blog-210630_source
Author: Nathan Eddy
---