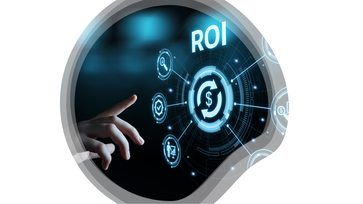 It is exciting to share a newly refreshed Total Economic Impact™ (TEI) study on VMware Workspace ONE Modern Management for Windows 10 PCs. The commissioned study, conducted by Forrester Consulting on behalf of VMware, details the significant cost savings and business benefits across four large customers globally using Workspace ONE Modern Management for Windows 10, reporting a 175% return on investment over three years and a payback period of less than 6 months. The study's composite global organization of 100,000 employees would realize a net present value of $39.98M.

Download the Total Economic Impact™ (TEI) study on VMware Workspace ONE Modern Management for Windows 10 PCs.
VMware commissioned a similar study in 2018 – still in the early days of Windows 10 adoption – that revealed the significant value of modern management and consolidating mobile and PC management into one solution. Of course, a lot has changed since 2018.
First, Windows 10 adoption in the enterprise has accelerated given the end of support on older OS. Second, Workspace ONE has evolved multi-folds through innovations that now make it one of the most mature and enterprise-ready platforms for Windows 10 management. And significantly, we have seen a tremendous acceleration in the use of Workspace ONE for Windows 10 in the enterprise.
Customers, including large enterprises that have used legacy PCLM tools for decades, are no longer asking "why modern management;" they are coming to us asking "how quickly can I get there?" This is backed by the fact that in just over two years, the composite organization's size between the two studies has grown from 12,000 employees to now 100,000+ employees!
Since 2018, benefits have grown considerably as well with the increased popularity of anywhere workforces and the expansion of modern management capabilities from Workspace ONE. The new TEI study validates those business benefits and quantifies the value of Workspace ONE's continued growth through new capabilities and offerings such as Drop-Ship Provisioning, patch automation, proactive support, enhanced employee experiences, and more. Importantly, the study also looked at how Workspace ONE helped customers be better prepared in responding to the dramatic shift in the workstyles during the COVID-19 pandemic. Let's look at some of these in more detail.
"When [the COVID-19 pandemic] happened, we planned for 3 weeks, then we rolled out 90,000 machines in 6 days." -Sr. Manager of EUC, manufacturing company, technology and products services company.
The increasing value of Workspace ONE Modern Management for Windows 10
Remote, anywhere work has exploded in popularity and become the norm for a growing number of organizations, enabling employees to adopt hybrid or full-remote work options. With so many employees working beyond the corporate perimeter, IT teams are experiencing a greater need for cloud-based, modern management.
The cloud-native Workspace ONE platform is ideally suited for these workstyle shifts. It delivers intelligence-driven, over-the-air modern management that simplifies IT operations, improves security against modern threats, and empowers the best employee experience across any device, anywhere.
For example, in the study, representatives from interviewed organizations expect to alleviate significant time-intensive IT overhead with a drop-ship provisioning model; in which PC provisioning is automated, done at the OEM factory, and the PC is shipped directly to an employee – no matter where they are located.
"We deliver devices more efficiently with an improved, automated experience and less IT overhead. Systems can be delivered directly to our end users. So, when they sign in for the first time, they receive their custom applications and configurations quickly. – Sr. IT Director, technology and products services company
Another key takeaway was around the ability to achieve, as one customer quoted "a continuous delivery model" for critical OS patches. On average customers saw increased patch saturation levels of greater than 90% by leveraging Workspace ONE. Policies, apps, and patches can be pushed out to employee devices without the need for these to be "on-network" or "VPN connected," ensuring devices remain updated and protected against security threats.
"We were always running behind on patching, always… Pre-COVID, when everyone was working in the office, the best we could do was a patch rate between 60% to 80%. With Workspace ONE, even with a more remote workforce, it is now 80% to 95%." – Compute engineering lead, Business & Technology Services Org
On help-desk and support, the study builds on the foundation of its predecessor, considering key Workspace ONE innovations around automated PC deployment, accelerated app requests, and remote and proactive support, and more. The study found with Workspace ONE, interviewees expect to reduce PC-related help desk tickets by 20% in Year 1, with the reduction growing to 30% in Years 2 and 3. Further, the time to resolve each ticket reduced by 50%.
It's obvious that the level of manageability has improved. Given the number of PCs we have now, we haven't had the number of tickets [or] the number of support requests we might have normally expected in the past." – Vice President, consumer internet services company
New considerations were included in the study based on updates to the comprehensive Workspace ONE platform, which helped customers eliminate the requirement of many standalone legacy tools to support functions such as VPN, encryption, and app catalog.
In addition to these quantified benefits, the study also highlighted many other efficiencies that customers anticipate or are currently experiencing but didn't measure. This included improvements in how they handle employee onboarding and offboarding, getting better visibility into end-user computing assets, reduced security risk exposure, and more.
For complete details on the value of Workspace ONE, read the full report here.
Of course, migration to modern management does not happen without planning and investment. The study factors solutioning, resource, and implementation costs, but the level of investment will be specific to each organization's starting point and modern management goals. As you begin or continue on your path to modern management, we encourage you to explore our modern management resources starting with our Modern Management Solution Page, VMware Test Drive, and Learning Path.
Contact
Source: http://bit.ly/blog-210614_source
Author: Aditya Kunduri
---