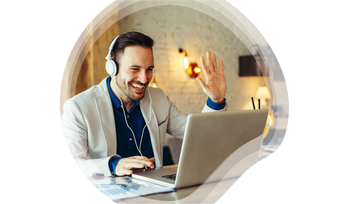 For many organizations, 2020 was the year that finally saw remote work become a reality on a global scale. As many people begin transitioning back to the office, many organizations are thinking about how they can transition from a remote workforce to a more permanent hybrid workplace. We recently conducted a study with over 900 chief information security officers (CISOs) on the state of Zero Trust and found that 81 percent say their organization has started or currently has a hybrid work environment in place and that 91 percent plan for their organization to be fully transitioned to hybrid work within the next five years. The era of hybrid work is here to stay. Learn more about our perspective and security efforts in Vasu Jakkal's blog, Securing a new world of hybrid work: What to know and what to do, posted earlier this month.
However, as recent events have shown us, the cybersecurity landscape continues to evolve. Bad actors are getting more sophisticated and the need for a stronger security model has never been more important. Zero Trust is no longer an option, it's now imperative for organizations that want to protect themselves while providing employees the flexibility they need to be productive.
Accelerating your hybrid work readiness with Zero Trust
Implementing a Zero Trust model means transitioning from implicit trust—where everything inside a corporate network is assumed to be safe—to a model that assumes breach and explicitly verifies the security status of identity, endpoint, network, and other resources based on all available signal and data. A contextual, real-time policy helps enforce least-privileged access principles and minimize risks. Zero Trust not only strengthens security but also enables the transformation needed to embrace hybrid work.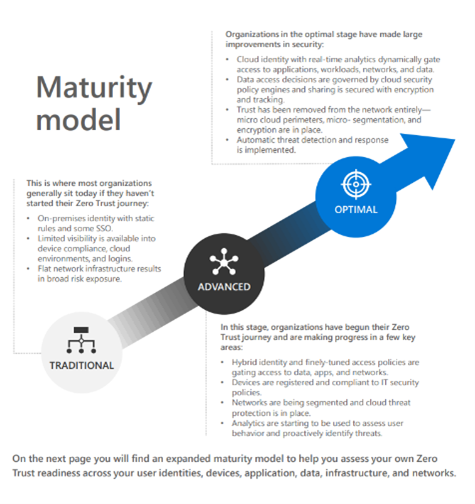 I often hear from customers that implementing a Zero Trust security framework can be daunting and that they're looking for help in creating a roadmap with the right prioritized milestones to maximize investments and positively impact their users. In this post, I'd like to provide an overview of the resources available to help accelerate your Zero Trust readiness and provide actionable guidance.
If you haven't already, I suggest starting with our Zero Trust Maturity Model whitepaper, which breaks down Zero Trust requirements across identities, endpoints, apps, networks, infrastructure, and data. This paper provides a strong starting point to assess your current Zero Trust maturity, prioritize security efforts to maximize impact, and get a foundational understanding of overall capabilities and requirements.
My colleague, Mark Simos, also posted a blog, Zero Trust Strategy—what good looks like, based on his experience helping customers transform their security strategies that expands on many of the concepts in the maturity model.
Assess your Zero Trust maturity and plan the next steps in your journey with the updated assessment tool
We created the Microsoft Zero Trust Assessment tool to help you determine where you are in your Zero Trust implementation journey and provide to-dos and deployment guidance to help reach key milestones. This month, we released an updated version that provides more targeted guidance and a curated list of resources to help you better prioritize milestones based on your current progress. Now, when a gap is identified in your Zero Trust readiness, you'll see which specific capabilities you need, the Microsoft products and services that can provide those and step-by-step guidance on implementation.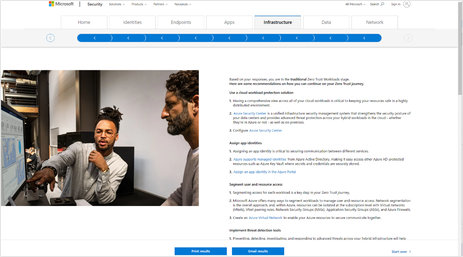 For more information about Microsoft Zero Trust, please contact us:
Contact
(C) microsoft.com - Nupur Goyal Senior Product Marketing Manager, Microsoft Security