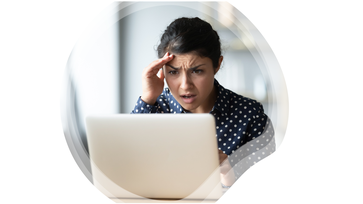 For the third year in a row, VMware Carbon Black announced its participation in MITRE Engenuity's third annual ATT&CK® Evaluations with VMware Carbon Black Cloud.
VMware Carbon Black Cloud delivered robust telemetry coverage with correlated, high-fidelity alerts at each and every step of the detection test, ensuring complete visibility into any similar real-world threat. This year, VMware Carbon Black also pioneered the use of network detection and response (NDR) via NSX Advanced Threat Prevention, together with VMware Carbon Black Cloud, to correlate detected threats across endpoint and network telemetry.
VMware Carbon Black Cloud delivers the critical capabilities needed for our customers to combat the most advanced adversaries:
Comprehensive telemetry coverage with correlated, high-confidence alerts for every single step of the detection test, providing critical visibility into the sophisticated adversary techniques
Unprecedented lateral movement and privilege escalation detections with added context via network detection and response capabilities by VMware's NSX Advanced Threat Prevention
First-of-its-kind visibility into malicious scripts through the power of VMware Carbon Black Cloud's AMSI Reveal feature shows just how easy it is to decode malicious commands on-the-fly directly within the cloud dashboard
Our latest VMware Carbon Black Cloud innovations in Linux security provided 100% detection coverage of the steps emulated, including comprehensive attack context via Enterprise EDR and Audit & Remediation
MITRE Engenuity describes this year's emulated adversaries as reliant "heavily on scripting, obfuscation, hiding in plain sight." Known for their targeting of a wide range of industries for financial gain rather than solely focusing on espionage, these sophisticated attacks require industry-leading analytics and unprecedented visibility that VMware Carbon Black Cloud uniquely provides. VMware Carbon Black Cloud provided precise visibility at each crucial moment of the Carbanak and FIN7 emulations. Security professionals leveraging VMware Carbon Black Cloud are responding faster and with confidence, armed with a unique set of capabilities not found elsewhere in the industry.
Security professionals around the globe leverage VMware Carbon Black Cloud as their top choice for a consolidated security platform with the ability to identify risk, prevent, detect and respond to the latest threats from a single cloud-based console. VMware Carbon Black Cloud not only delivers best-in-class detection technology, but transparent and adaptive prevention that allows our dedicated Threat Analysis Unit to infuse key security insights directly into the platform with zero added effort from the customer. For visibility beyond the endpoint, VMware's Advanced Threat Prevention (ATP) offering for the NSX Service-defined Firewall provides network traffic analysis, intrusion detection and prevention, and advanced malware analysis with comprehensive network detection and response capabilities. Every day our customers are empowered to tip the advantage away from the bad actors to themselves.
To learn more about advancing your security posture with the MITRE ATT&CK framework, be sure to register for this year's Security Connect virtual conference.
For more information on the MITRE Engenuity ATT&CK Evaluations for Enterprise Carbanak and FIN7 evaluation, check out MITRE Engenuity's blog and the testing overview.
About MITRE Engenuity ATT&CK Evaluations
MITRE Engenuity ATT&CK evaluations are paid for by vendors and are intended to help vendors and end-users better understand a product's capabilities in relation to MITRE's publicly accessible ATT&CK® framework. MITRE developed and maintains the ATT&CK knowledge base, which is based on real-world reporting of adversary tactics and techniques. ATT&CK is freely available and is widely used by defenders in industry and government to find gaps in visibility, defensive tools, and processes as they evaluate and select options to improve their network defense. MITRE Engenuity makes the methodology and resulting data publicly available so other organizations may benefit and conduct their own analysis and interpretation. The evaluations do not provide scores, ranks, or endorsements.
About MITRE Engenuity
MITRE Engenuity is a tech foundation that collaborates with the private sector on challenges that demand public interest solutions, to include cybersecurity, infrastructure resilience, healthcare effectiveness, microelectronics, quantum sensing and next generation communications. www.mitre-engenuity.org
About VMware
VMware software powers the world's complex digital infrastructure. The company's cloud, app modernization, networking, security, and digital workspace offerings help customers deliver any application on any cloud across any device. Headquartered in Palo Alto, California, VMware is committed to being a force for good, from its breakthrough technology innovations to its global impact. For more information, please visit https://www.vmware.com/company.html.
VMware and Carbon Black are registered trademarks or trademarks of VMware, Inc. or its subsidiaries in the United States and other jurisdictions.
Contact
Source: http://bit.ly/blog-210519_source
---