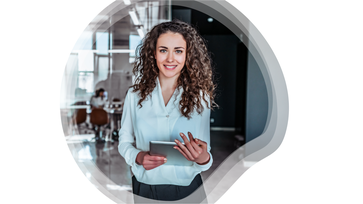 This blog is going to deep dive into Workspace ONE Intelligent Hub. There are  many questions about what Intelligent Hub is, what it can do, and how to use it. Here is an overview that clears up all of these questions.
Note that this is article from the IT admin perspective. If you're an employee at an organization that is using Intelligent Hub, talk to your administrator or visit the user-facing website, https://whatisworkspaceone.com to learn more about Workspace ONE apps, how they help you get your job done, and how they protect your privacy.
You can visit https://getwsone.com/ to download Intelligent Hub to your device.
What is Intelligent Hub?
Workspace ONE Intelligent Hub is a unified workspace application for employees, providing seamless access to all apps, company information, communications, self-service, corporate directory, and more. Intelligent Hub is offered as a native application on iOS, Android, Windows 10, and macOS, or as in a web portal that can be accessed on any device browser.
Intelligent Hub can be used for managed or BYO devices as the agent for device enrollment or registration to help in the setup process as a part of device onboarding. But if you aren't using Intelligent Hub for more than enrollment, you are missing out. Intelligent Hub brings many important experiences to any EUC deployment – including both Workspace ONE UEM and VMware Horizon environments.

What can Intelligent Hub do?
Intelligent Hub is the app that you can use to deliver an engaging experience to all of your employees and help them stay productive from any device, no matter where they are working. Intelligent Hub provides a consistent experience for accessing the tools employees need for work. You can personalize the experience for your organization by setting up and configuring Hub services. Hub services are hosted as part of Workspace ONE Access (which can be either a SaaS service or installed on premises), so no additional services are required.
Let's look at the different Hub services.
Catalog – Use the catalog service to enable the app catalog function in Intelligent Hub. This modern experience allows IT to provide employee access to native, web, SaaS, and virtual apps from a single location. Use custom categories to make it easy for employees to discover relevant apps and recommend top apps with the recommendation banner. When you use the native version of Intelligent Hub app, you can install native applications on the device. When you're using Workspace ONE Access, you can also provide single sign-on to all these applications, making access seamless for employees and eliminating "forgot password" issues and tickets.
Branding – Customize the Intelligent Hub experience for your organization. Update the primary and highlight colors, and even choose the icon that most closely matches your brand identity. There is also opportunity to update navigation tab names to match your organization. For example, if your IT Help Desk has a branded name, the Support tab in navigation will reflect that.
Custom tab – The custom tab allows organizations to "pin" an internal or external website, such as the intranet portal. Tunnel traffic for internal sites with the Workspace ONE Tunnel capability. The custom tab can be pre-configured as the default landing page to drive additional traffic.
Notifications – The "For You" framework in Intelligent Hub is where employees can access curated corporate communications. IT and HR can use the notification builder to build and preview an informational or actionable notification. There is also a robust notification API for scripting support. Notifications can also be set at proper priority – urgent priority will pop up on the employee's screen in Intelligent Hub, high and regular priority will be available in the "For You" page.
Use cases for notifications are never-ending! Great examples of using this as a corporate communications tool are alerting employees to bad weather, office closures, technology outages, new apps, new people programs, survey requests, emergency alerts, critical healthcare communications, and more.
Support – Self-service is a critical part of the unified workspace. Organizations can brand the support tab with the internal name of their IT helpdesk for brand recognition. Create a listing of the top solutions to FAQs to help employees self-solve, provide the ability to manage their devices, SSO for opening helpdesk tickets, easily onboard new devices, and password management. You can augment the self-service experience even further, by configuring AVA.
AVA – VMware AVA (autonomous virtual assistant) is the embedded enterprise virtual assistant for your employees, built on IBM Watson. AVA is another great tool to provide self-service offerings for your workforce, customized to your organizational environment. Upload our trained data set into your Watson environment to provide a consumer-like chatbot experience to help your workforce stay productive. AVA focuses on two use cases:
Discovery – Employees can ask AVA questions, like "how many PTO days do I have", "what is our BYOD policy", or "what are my vision benefits." AVA can provide the most relevant corporate page or document to help answer employees' questions.


Helpdesk Ticketing – by integrating with experience workflows, employees can easily tackle common helpdesk workflows right within Intelligent Hub. AVA will guide employees through things like ordering a device, opening a ticket with HR/IT, and viewing all open tickets.
People – When using Workspace ONE Access, this service allows you to integrate your corporate directory right into Intelligent Hub. View your team at-a-glance, search for colleagues, and even browse the corporate organization chart. Contact colleagues with a click, and when privacy restrictions allow, you can simply save the contact card to your device.
Verify – When using Workspace ONE Access, Intelligent Hub can also be used for multi-factor authentication. Employees set up the soft token on their mobile device of choice, and when MFA is required, they can simply approve or deny access to that application or service. Verify is simple to use and supports that secure experience.
Hub templates – Hub templates are a great tool for organizations to create customized experience for employees based on their role or location. For instance, some groups of employees might want a custom tab pointing to a different intranet site based on their region. Hub templates can be assigned based on smart groups.
There is also a Hub template specifically for Day 0 onboarding. This allows you to customize and curate Intelligent Hub specifically to engage new employees before they join your organization. Send a custom welcome letter, aggregate onboarding tasks, and allow access to apps needed during onboarding. Once they join on the first day, they'll be transitioned to the full experience.
You can see a full feature walk-through at Tech Zone, and a demo video of the Day 0 Onboarding experience on YouTube
How do you get the full Intelligent Hub experience at your organization?
Make sure that Hub services are enabled (you can access from UEM or Access admin console) and start to configure the Hub services above. Hub services require a SaaS or on-premises Access tenant. All Hub services except for AVA and experience workflows are supported on premises as of Access 11.02.
To learn more about ensuring a smooth rollout of Intelligent Hub, see our blog on the Workspace ONE Adoption Kit.
Some capabilities (People, single sign-on, Intelligent Hub web portal in the browser, AVA) require full Workspace ONE Access deployment by federating with your directory. A UEM tenant is required to use the native versions of Intelligent Hub on iOS, Android, MacOS, or Windows 10.
Get started today! You can try our Workspace ONE Hands-on Lab or sign up for a Free Trial.
Contact
Source: https://blogs.vmware.com/
---