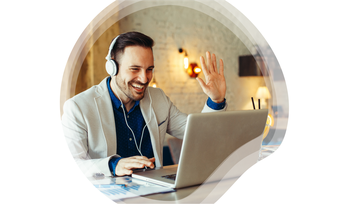 Microsoft Data Loss Prevention is rich in features and has a very wide adoption. In this article two coverage limitations will be addressed:
First when a user is a Guest in an external tenant, and second, when an user joins a meeting hosted by external user.
Introduction
This is not the first time we are talking about Microsoft's Data Loss Prevention (DLP) add-on for Microsoft Teams.
Here we want to put focus on an aspect that, although could be underestimated, it can significantly increase Data Leak issues inside organizations.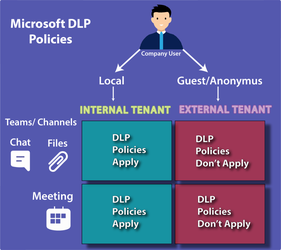 Data is not inspected when your company users are guest in another company tenant
The problem is the following: Suppose company A has Data Loss Prevention policies activated for their Microsoft Teams, but company B doesn't.

Now, an employee from company A communicates with an employee from company B as a guest. The issue will be that the DLP won't act when that communication happens. The employee from company A will be able to send messages or files that violate company's DLP without any barriers while he is a guest in company B.

Data is not inspected by MS DLP when your company users joining anonymously meeting of other companies
A very frequent problem is that if a user is joining an external meeting as anonymous, this won't be handled by native MS DLP.

DLP for external chat sessions (chat with an external user) will only work if both, the sender and the receiver, are in Teams Only mode and using Microsoft Team's Native Federation; That means that if a user is joining an external meeting , this could not be handled by native Microsoft's Data Loss Prevention.
Why is it more serious than thought
Although DLP violations inside the company are already serious enough, DLP breaches to other companies will be all the more so.
Just think about an employee sending trade secrets, insider information, or any other sensitive information to other 3rd party companies.
The solution
SphereShield for Microsoft Teams Real-Time DLP addresses the problem in a complete way. It works both, internally and externally, not leaving any room for DLP violations.
In addition, users can opt-in for advanced DLP features that detect issues in audio conversations in real-time, as well as DLP detection for screen-sharing using OCR.
To get more information or a free live demo - contact us.
Contact
Source: http://bit.ly/blog-210505_source
---