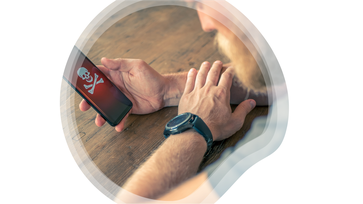 Every day, organizations are impacted by critical events, including operational interruptions, network outages, cyber attacks, natural disasters, or other emergencies.
According to a recent 2021 report from BCI, in 2020 nearly 50% of businesses faced IT or telecom incidents that triggered their emergency communications plans, while over 45% dealt with adverse weather or natural disasters.
For organizations that don't effectively manage critical events, the consequences can be dire. On top of financial losses, organizations can face reputational damage, eroded stakeholder confidence, reporting penalties, and – in worst-case scenarios – significant threats to human life, health, and safety.
While the COVID-19 pandemic has been a jarring reminder of the need for comprehensive, up-to-date business continuity planning and emergency preparedness programs, that's only half the battle. Effectively responding to and recovering from critical events depends on taking a unified approach to critical event management (CEM).
Introducing BlackBerry Alert for Critical Event Management
At a time when being prepared is everything, BlackBerry is announcing BlackBerry® Alert, a next-generation CEM solution designed to help organizations prepare for, respond to, and recover from disruptive events.
Building on the experience in crisis management, secure communications, AI, machine learning, and automation, BlackBerry Alert is a direct response to the market need for an agile, comprehensive approach to managing all critical events for businesses of every size, in any sector.
BlackBerry Alert gives organizations the tools needed to quickly and easily respond to and recover from any critical event that threatens operations and people. Whether facing a serious incident or business-as-usual events, BlackBerry Alert enables organizations to take charge of a situation before it escalates into something worse.
Many organizations struggle to optimize management of critical events because their tools are often disconnected and siloed. The challenge of staying connected is further amplified by an increasingly distributed workforce, with people based on-site, in the field, and at home.
Without a unified approach, communicating targeted, timely, and accurate information is virtually impossible. The result is confusion, inconsistent messaging, disinformation, and slowed response times that put operations and people at risk.
Through a single, comprehensive platform that facilitates preparedness, response, recovery, and improvement – all in one place – BlackBerry Alert equips organizations for any critical event right from the start. By effectively tackling every phase of CEM – end-to-end – organizations can manage events before they evolve into serious operational disruptions.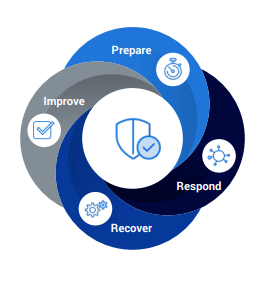 Plan ahead – Assess risks and design communication templates and workflows to coordinate responses. Get real-time notifications, connected to internal and external systems, that flag potential issues.
Respond effectively

– Alert anyone, anywhere with two-way communication across multiple channels, even if primary communication methods are compromised. Gain centralized, real-time situational awareness of operations and people.

Recover rapidly

– Stay on top of events and establish recovery of disrupted processes. Keep track of responses with status updates and check-ins and collect real-time insights through automatically-generated status reports that allow you to make more informed decisions and resolve incidents quicker.

Improve continuously

– Ensure every critical event is managed better than the last by reviewing response logs to inform planning, improve future performance, and facilitate audits.
Rising to the Challenge of Cybersecurity
While BlackBerry Alert is designed to manage any event – from day-to-day incidents to critical emergencies – cybersecurity is one use case that's become increasingly urgent for today's organizations.
In 2020, cyber attacks skyrocketed by nearly 400% according to the FBI. Security experts predict cyber crime will only increase as malicious actors continue to develop more sophisticated strategies and prey on vulnerabilities related to remote work.
Since a growing number of conventional safety- and security-related threats have an element of cybersecurity involved, organizations need to take action to minimize risk and prevent serious long-term damage.
With BlackBerry's strong foundation in advanced AI-based cybersecurity solutions, our goal is to prepare organizations with the strongest defense possible to operate effectively in today's – and tomorrow's – complex business environment.
BlackBerry Alert brings together all the tools to mount an effective response and recovery to cybersecurity incidents, from start to finish:
With proactive alerts and planning, you can get early notifications of impending issues before they escalate.
As soon as a threat emerges, you're prepared with templated notifications and workflows to targeted stakeholders, allowing you to immediately launch the required response.
A streamlined, integrated communication and collaboration platform enables you to reach incident response teams with consistent messages – even if regular communication channels are down. Integrations with existing systems, including ServiceNow® and Microsoft Teams®, make it easier to further reduce response times and increase message read rates.
Targeted notifications can alert people to avoid accessing any systems under attack, build awareness of ongoing remediation efforts, and get everyone back online once the issue is resolved.
BlackBerry Alert automatically documents the entire event, so your incident response teams can identify existing weaknesses, improve future responses, and comply with regulations.
Keep Your Business Running, People Safe, and Customers Happy
While it's impossible to prevent critical events from happening, with BlackBerry Alert it is possible to drastically reduce their impact on businesses and people.
BlackBerry Alert arms organizations with intelligent CEM for the best chance at effective response and recovery. Additionally, the BlackBerry Alert team of experts can help with everything from fully managed services solutions to assistance integrating with existing systems.
Contact
Source: http://bit.ly/blog-210422_source
---