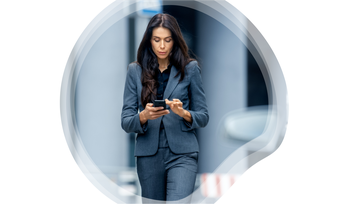 Mobile devices make irresistible targets for threat actors because they're both ubiquitous and vulnerable. In 2020, there were an estimated
3.5B smartphone users
.
This year, another 300 million are projected to join their ranks. For the first time,
more than half
of all devices connected to the Internet are mobile. Many of these devices will be used by remote workers to access their employers' enterprise networks, cloud applications, and data. By 2024, mobile workers are projected to account for nearly 60% of the total U.S. workforce according to
International Data Corporation
.
Naive about mobile threats, many workers inadvertently expose themselves and their employers to attacks by practicing poor security hygiene. For example, texting-addicted phone users are much more likely to immediately open and respond to potentially malicious texts than emails. Aware of this, crafty threat actors are quickly creating new forms of mobile malware and adapting phishing lures for smishing (a concatenation of the terms SMS and phishing). Although still in its early days, smishing has already become a serious threat. According to a Proofpoint survey, 84 percent of respondents experienced a smishing attack. Another 83% reported they had been voice phished (vishing).
Unwary mobile users are also prone to sideloading apps that contain malware and using popular apps, like WhatsApp, which are initially perceived as safe but later turn out to have serious and easily exploited security vulnerabilities.
As a result, successful mobile attacks are on the rise. According to a 2020 Verizon MSI report:
Almost 40 percent of the organizations surveyed experienced a mobile-related compromise.
Two-thirds (66 percent) of victims said the impact was major, and 37 percent said remediation was difficult and expensive.
Forty-five percent admitted their defenses were falling behind attackers' capabilities.
As noted in a recent BlackBerry Research and Intelligence Report, "Low threat detection rates and a false sense of security have made mobile users an easy target. Given an immature market, security solutions intended to block mobile malware are few in number," adding, "Forensic access to smartphones remains relatively limited."
The answer for more and more organizations is to embrace a rapidly-emerging class of mobile security capabilities known as mobile threat defense (MTD). These solutions go beyond traditional enterprise mobility management (EMM), offering an extra layer of security by preventing, detecting, and remediating attacks, and improving security hygiene for an organization's mobile fleet and applications.
Artificial Intelligence-Powered MTD Solutions from BlackBerry
BlackBerry® Protect Mobile is an MTD solution that extends the powerful AI-based security in BlackBerry® Protect to mobile devices, providing security teams with unprecedented visibility into their mobile, desktop, and server endpoints from a single security console. It detects and alerts users about attacks, security vulnerabilities, malicious URLs, malware-carrying sideloaded applications, plus a wide range of other potential threats, by monitoring system parameters, device configurations, and system libraries at the application level. All threat detection and conviction processes are fully-automated and require no human interaction.
BlackBerry Protect Mobile is part of the BlackBerry Cyber Suite of endpoint security solutions that include BlackBerry Protect, BlackBerry® Optics, and BlackBerry® Persona. Together they provide the unified threat prevention and policy management capabilities organizations need to optimize their resilience and enhance productivity.
Learn how BlackBerry can help your organization extend a prevention-first security posture to your mobile devices by downloading the datasheet, BlackBerry Protect for Mobile Devices - Mobile Threat Defense Powered by AI.
Contact
Source: http://bit.ly/blog-210421_source
---