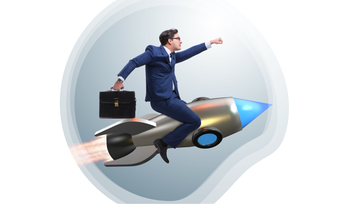 It's easy for businesses to drop into reactive survival mode during a crisis like COVID-19. Navigating rapidly changing conditions can make it difficult to think beyond immediate challenges. And yet, even – or perhaps especially – in a crisis, it's imperative that companies execute strategies that will make them stronger in the long term. In the case of COVID-19, those strategies should support clients as they transition to new working conditions.
This pandemic has catalyzed a monumental shift in where and how people work. It's becoming increasingly clear that this shift won't end with the pandemic. At Ivanti, we've spent years preparing for what we call the "Everywhere Workplace," in which IT infrastructures and customers are everywhere, and distributed employees need access to apps and data from any device, whenever and wherever they work. We're creating the end-to-end solutions that support this new work landscape, making it simpler and more secure for employees to deliver peak performance from wherever they are.
In the midst of this crisis, we've accelerated a transformative acquisition strategy to bring the Everywhere Workplace to life. Our goal: identify the best talent, solutions, technologies, and innovations, and bring them into Ivanti. We have the distinct advantage of being able to augment sourced technologies with our own in-house innovations, such as the Ivanti Neurons intelligent experience platform, in order to reduce IT complexity and improve the experience for our clients and end users.
Acquisition with intent
There are two kinds of acquisitive companies in the tech space: consolidators and integrators. Consolidators are effectively holding companies that keep their acquisitions running independently. Integrators acquire with intent, forging a strategic path that targets and serves a consistent customer demographic. This creates a whole that is more than the sum of its parts. Ivanti is an integrator.
Formed from the merger of HEAT Software and LANDESK – both providers of IT service management and endpoint management solutions – in 2017, we have been busy building out a best-of-breed unified IT management portfolio ever since.
Today, Ivanti is focused on three product pillars: unified endpoint management (UEM), zero trust security, and enterprise service management (ESM). Our recent acquisitions have all supported this vision.
We acquired MobileIron and Pulse Secure at the height of the pandemic. With MobileIron, we had already integrated our desktop and endpoint management products as part of an ongoing agreement, and the acquisition expanded our endpoint management capabilities to handle any endpoint device. With Pulse Secure, which already had a multi-year partnership with MobileIron, we were able to build out our security offerings.  
And now, we're building out our ESM pillar with the acquisition of Cherwell. Cherwell is an IT service management company that enables its clients to deploy line-of-business applications without writing code so they can deliver enterprise services more quickly, tailored to their own workflows.
A unified approach to enterprise IT
We add value to our acquisitions through a combination of integration and product innovation. This enables us to integrate all our solutions into our Ivanti Neurons platform.
Using our latest acquisition as an example, we are committed to maintaining and investing in both Cherwell and Ivanti service management solutions while working to converge the best aspects of each. We plan to integrate Cherwell's market-leading no-code and low-code applications. The Ivanti Neurons platform will connect the best-of-both enterprise service management portfolio with the company's unified endpoint management and zero trust security solutions, providing a single pane of glass for enterprises to proactively, predictably and autonomously self-heal and self-secure devices, and self-service end users.
On their own, each of our three pillars are well-established and mature industry sectors that invite market consolidation. However, a smart acquisition strategy that builds an end-to-end solution unified by a smart automation layer adds exponential value. While other companies compete with Ivanti in single pillars, no other vendor offers this unified approach to IT management from the endpoint through to back-office IT and enterprise service management.
Ivanti's platform enables companies to discover, manage, secure and service all endpoints and IT assets. This is what makes the Everywhere Workplace possible. With a platform that can find and protect every device, and provide proactive IT support for end users, we're create a working environment that supports employees equally well at the office, at home, or on the road. Our platform understands and accommodates each employee's working context.
Thinking beyond adversity
Those who invest in innovation and technology during a crisis emerge stronger. PwC's 2020 Executive Pulse survey bears this out; 75% of the executives surveyed said that they were committing more resources to digital transformation during the crisis.
A key part of digital transformation is determining which technologies support long-term competitive advantage. When the pandemic sharpened the need for a workplace strategy and we saw companies struggling to support employees working from home, we doubled down on the Everywhere Workplace with acquisitions that would make life simpler alongside protecting remote users.
Combining technologies is just one challenge for a company that is growing through integrative acquisitions. The other part is cultural integration. People, relationships, and working practices vary widely across companies, and each is unique. When Ivanti acquires a company, we immerse it in our own management style as quickly as possible.
We use a flat management structure that encourages fast, efficient communication and execution. We put the customer first and are heavily performance-oriented, focusing on financial discipline. We aren't just a bunch of pieces and parts, but rather a unified, strengthened and robust whole.
We will continue to build, buy and partner to get into product subcategories that make sense for our business, and we already see more opportunities that present a good fit. It's not all about building scale; it's about building a deeper and more vertically oriented solution set. We are already set to emerge from the pandemic stronger, with a cohesive offering that will make our clients stronger too. It's going to be a brave new world, and we are ready to serve.
Find out how you can get a complete end-to-end mobile threat protection
Scource and copyright: http://bit.ly/blog_210408_source