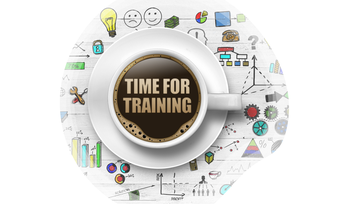 When it comes to providing employee training, many organizations must weigh the costs vs. benefits. While training undeniably takes time and money, you will find that over time not training your employees will cost your company a lot more. 

Think of it this way; untrained employees will lack the knowledge and motivation to undertake best practices and properly utilize the company's technology and resources. Not only does this prove to be a waste of company resources, but untrained or improperly trained employees can also cause your customer relationships and, ultimately, your business to suffer.
Conversely, according to a 2018 Gallup poll, companies that invest in employee training gain 21% more profit due to increased employee retention and higher productivity. Additionally, a case study from the Global Journal of Commerce and Management Perspective showed that training helps employees develop a positive attitude toward learning and improving proficiency, which results in enhanced productivity and competitiveness in the workplace and the organization as a whole. 
Furthermore, many employees are driven by the prospect of training and career growth. A 2020 survey by CompTIA found that 68% of employees want to learn or train in the workplace, and according to stats on why people leave their jobs, if employees aren't given any opportunities to advance in their career, they are likely to start looking for another job.  
At the end of the day, a business comes down to the individuals that comprise it, and the best investment a company can make is in their employees. That said, it's important to consider what your organization wants to extract out of your employees through training; perhaps it comes down to better managing your ecosystem, improving security posture, or finding ways to work smarter rather than harder. Take the following scenario: You would like to send out custom form letters, but it takes administrative assistant Joan 15 minutes to cut and paste from a template. A practical solution? Send Joan a YouTube tutorial video on Quick Parts, and now Joan spends 2 minutes per letter. Even taking the smallest opportunities to show your employees more efficient work methods ultimately saves your company time and money.  
Another aspect to consider is the method of training. As opposed to scheduled, rigid off-site training, many flexible eLearning options are available today and can be completed and revisited on the employee's terms. There is also the option to promote internal training, wherein trained employees train other colleagues, which is a more cost-effective method and reduces the need of external support.
Organizations that invest in their employee development will find that training increases their employees' capacity to adopt new technologies and methods, as well as their innovation. These skills are invaluable in a competitive global market where technology is ever-changing, and training helps your employees stay current as the technological environment changes to accommodate the current paradigm.  
Think back to the start of COVID-19 precautions and work-from-home orders in 2020; to keep businesses afloat, everyone had to become mobility and digital workplace experts overnight, and this proved to be a struggle for many companies who had not yet completed the digital transformation process. What we can glean from this experience is that technological training results in familiarity and preparedness which, in a dire, unexpected situation such as the pandemic, could make the difference in keeping your business up and running. 
Training Guidelines:
1. Get the right training for your business – Seek practical, hands-on, use case-oriented training from experienced trainers/consultants tailored to your specific needs 
2. Train the right people – Who among your employees needs training and in what area? When it comes to training on best practices, is there a "one size fits all" solution for your employees? 
3. Ensure ROI (return on investment) – What if an employee leaves right after training? Provide training/certification in exchange for commitment to stay for "X" amount of months. Share cost (like for some COPE programs) 
4. Always prioritize security – Make sure employees get to know their system and understand the importance of keeping it patched and secured. Strong security is everything. 
If you have any questions or concerns about employee training and best practices, please feel free to contact us. ISEC7 offers global training, customized and tailored to fit your specific needs and goals. Fortify your security posture by learning from seasoned professionals with strong technical backgrounds and real-life experience in major enterprise mobility solutions.
Contact
(C) Rémi Frédéric Keusseyan, Global Head of Training, ISEC7 Group