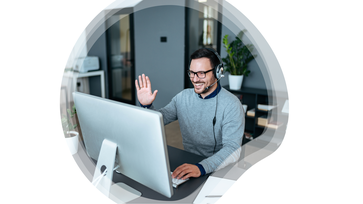 Following case study reflects how SphereShield for Microsoft Teams helps a leading Australian company with over 7,000 employees mitigate insider threats while allowing their workers into their Teams enviroment.
The Challenge: Limit a contractor's ability to share sensitive information
Insider risk is a very serious concern for any company. Even minor negligence acts have to be addressed and not left out of control.
A leading Australian corporation with over 7,000 employees approached AGAT one day. They were looking for a very crucial solution for their help desk service.
In order to provide for their help desk service, this company hired a 3rd party contractor which also received access to their Virtual Desktop infrastructure and Microsoft Teams tenant.
This represented a potential insider risk of third party employees having access to sensitive information.
This corporation approached AGAT Software in order to provide a solution that enables full visibility on the external contractor employees and locks down their ability to share sensitive information and mitigate insider risk.
The Solution
AGAT provided with two of its products to address the solution
SphereShield Ethical Wall for Microsoft Teams allowed the company to block 3rd party employees from contacting external parties, while allowing regular employees to communicate with everyone.
In the same way, it blocked 3rd party employees from sharing their screens with internal parties to prevent private information from virtual desktops to be leaked
Second, SphereShield eDiscovery to allow capturing all communications events between users in that included: Event Type (chat, audio, video, file screen share), participants, content of the event.
Customer Benefits
By choosing SphereShield by AGAT, the customer solved potential information breaches while letting internal communications run as usual. The Ethical Wall allowed them to easily manage communication policies involving 3rd party employees for ensuring sensitive information.
What is more, the eDiscovery enabled for a more complete visibility of employee's communications with a more robust monitoring over contractors to significantly diminish the risk of information leaks.
Looking how to improve the compliance and security of your company's Unified Communications and Collaboration service? Contact us today:
Contact
Source: http://bit.ly/blog_210222_source
---