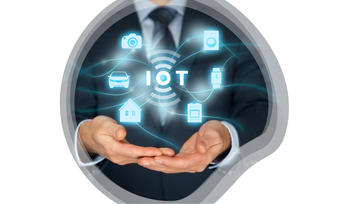 Building on the ISEC7 SPHERE architecture in our mobility management and monitoring solution, our team has extended the capability to include IOT ecosystem. We are proud to announce ISEC7 SPHERE IOT for Smart Buttons, which can be configured to alert a pre-determined recipient list at the press of a button or a change in GPS location. When used in conjunction with BlackBerry® AtHoc® Crisis Communication Platform, our solution can push alerts out to those recipients.

ISEC7 SPHERE IOT
ISEC7 SPHERE is a holistic Digital Workplace & Mobile Service Management and Monitoring solution to cover all aspects of daily operations within your mobile infrastructure. It is constantly evolving around the needs of our customers and, as such, with ISEC7 Sphere IOT it has extended its coverage to support Internet of Things (IOT) devices.
BlackBerry AtHoc
BlackBerry AtHoc is a premier crisis communication solution for emergency mass notifications. For example, emergency managers can alert all/targeted employees to emergency situations such as inclement weather or imminent danger to ensure their safety.
How ISEC7 SPHERE IOT for Smart Buttons with BlackBerry AtHoc Work
ISEC7 Sphere has taken a significant step into the Internet of Things by offering a new ground-breaking feature: sending BlackBerry AtHoc alerts triggered with a press of a Smart Button.
ISEC7 Sphere IOT acts a bridge between the Smart Button ecosystem and BlackBerry AtHoc, allowing triggers from that ecosystem to be actioned by BlackBerry AtHoc.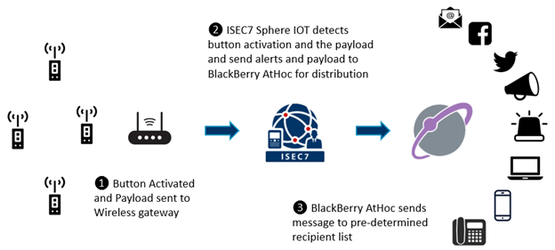 Use Cases
There are thousands of use cases out there with the endless increase of IoT device integrations in many sectors such as industry, transportation, healthcare, and law enforcement.
Healthcare
Wall-mounted button: Bedside button allowing healthcare personnel to request assistance in case of security or medical emergency
Staff panic button: Panic button to be used by healthcare personnel when dealing with difficult or dangerous patients

Field Workers
Worker in distress: Call for help without needing to fumble with a phone
Worker Tracking: Real-time tracking information for teams deployed in the field
Law Enforcement
Discreet Panic button: For front-line officers to use in unique situations where they might need to stay incognito
Team Location: Associated with each officer, would allow command to locate them as needed to allow for a better response to any incident
We are pleased to introduce this new solution and would be happy to answer any questions you may have about the ISEC7 Smart Button.

Please feel free to contact us if you have any questions or would like a demonstration.
Contact
(C) Rémi Frédéric Keusseyan, Global Head of Training, ISEC7 Group