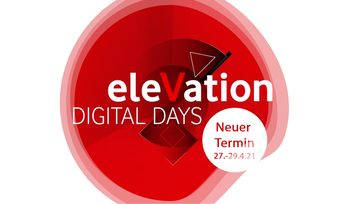 Vodafone postponed the eleVation Digital Days to April 27-29, 2021 due to the new lockdown in Germany.
"Health and safety are our top priority. Unfortunately, the corona pandemic has developed a new dynamic that brings further challenges for all of us. Due to the current situation and the adjusted restrictions and recommendations of the federal government, we must work together Look forward to the eleVation DIGITAL DAYS a little longer.

More than ever, it is now important to avoid contact with other people as much as possible and thus to stop the spread of Corona. We have therefore decided to postpone the eleVation DIGITAL DAYS and are now planning it for the end of April 2021. Despite the new, digital format and a strict hygiene concept, many people are involved in the implementation, and we do not want to expose them to any additional risk.

We are convinced that our decision is for the best of all. Hopefully we can go on a virtual technology trip around the world with you in April.

Continue to use the registration for the eleVation DIGITAL DAYS: https://vod.af/elevation21. This will notify you of all exclusive content. Stay healthy!"
Contact