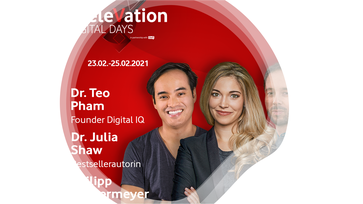 100+ Speaker & Special Guests |3 Virtual Stages | 50+ Deep Dives.
Be part of the eleVation DIGITAL DAYS with topics related to digital change, new work and a sustainable future. Exchange ideas with inspiring speakers and thought leaders and get exciting product insights from the Deep Dives.
Ready? Register now for the eleVation DIGITAL DAYS from February 23 - 25, 2021.
// 100+ Speaker & Special Guests |3 Virtuelle Bühnen | 50+ Deep Dives.
Seien Sie Teil der eleVation DIGITAL DAYS mit Themen rund um den digitalen Wandel, New Work und eine nachhaltige Zukunft. Tauschen Sie sich mit inspirierenden Speakern und Vordenkern aus und holen Sie sich spannende Produkt-Insights aus den Deep Dives. Ready? Registrieren Sie sich jetzt für die eleVation DIGITAL DAYS vom 23. - 25.Februar 2021.
Contact