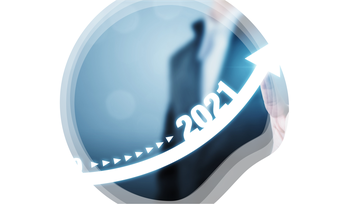 While we can certainly agree that 2020 was unconventional to say the least, we can now look back and appreciate some of the positives that arose.
In response to COVID-19 and the resulting precautionary protocol, everyone – businesses and individuals alike – had to change how they go about their daily lives. Many companies have been obligated to keep their employees at home if deemed "non-essential," but the challenge remains of having operations and customers to attend to.
Thankfully, in 2020 most people and organizations had access to technology that helped minimize the disruption of moving to an entirely digital workplace, but nonetheless COVID-19 proved to be something of a stress test for companies to evaluate their preparedness regarding mobility and digital workplace transformation. Some businesses were 100% mobile-ready even before the pandemic struck, while others, who were still halfway through the digital transformation process, simply had to make some small adjustments.
However, some businesses were caught completely off-guard and had to improvise, struggle, and take uninformed, unnecessary risks to cope with the sudden changes COVID-19 bore. This proved an opportunity for hackers, considering people started using new devices from their home offices – with few to no enterprise management solutions – to access corporate resources and maintain business continuity. Ultimately, this increased attack vector for businesses put the security of mobile infrastructure at the forefront of 2020. This is clearly reflected with most UEM vendors consolidating their offers to provide new products like Mobile Threat Defense (MTD) and other Zero Trust architecture features, which constantly verify users, devices, and apps to secure and restrict access to corporate data.
Although the real star of 2020 proved to be collaboration tools. With employees working remotely, solutions like Microsoft Teams and Zoom became more popular, as employees still need to communicate easily and collaborate on projects. For a company like ISEC7, deeply immersed in the digital workplace, collaborative communication platforms like Microsoft Teams enable employees to stay as connected and engaged as possible, and ultimately help drive our efforts in the digital workplace.
Ultimately in 2020, the pandemic pushed companies to realize how crucial mobility and digital workplace transformation is for their workforce.
2021: What to Look Forward to
The Year of 5G
5G has been around for quite some time now and 2021 may finally be its year, with more and more mobile manufacturers releasing affordable 5G compatible devices. What was initially a premium feature on higher-end mobile devices will slowly become a default option on newly released devices, similar to the advent of 4G.
Internet of Things
The past year saw the availability and sell of many Internet of Things (IoT) devices. They bring more reliability, faster speeds, and mobility to various applications where such attributes are required. Some examples of IoT devices are watches, smart speakers, smart fridges, and many others that rely on technologies like Wi-Fi, Bluetooth, Zigbee, LoRaWAN, etc. As the drive for devices to be always connected, relay information, and ultimately improve our lives, we will continue to see a global increase and reliance on the IoT.
Virtual Desktop Infrastructure
Virtual Desktop Infrastructure (VDI) is used to offer a container-like experience, secure and effortless deployment for BYOD programs, and it could also greatly benefit from 5G speed boost. Since it relies on encrypted pixel stream, lower latency network would make a difference and greatly improve the whole user experience.
Private LTE and CBRS
On the same level, another technology like Citizens Broadband Radio Service (CBRS) could also potentially kick in strong in the U.S. as a replacement to Wi-Fi for mission-critical applications. Operated as a private wireless network, it allows better control over network, focused coverage area, as well as security and privacy as a part of LTE protocol. Its only limitation for now would be its adoption by more mobile endpoint manufacturers.
Contact
(C) Rémi Frédéric Keusseyan, Global Head of Training, ISEC7 Group