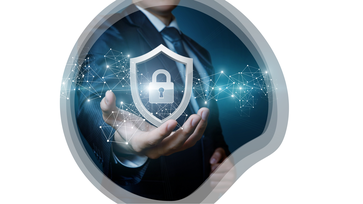 ISEC7 Group has integrated AGAT´s best-of-breed technology into its portfolio of trusted, high-value solutions to address the recent surge in remote working and the critical market need for secure collaboration solutions.
The expert for highly secure digital workplaces and mobility solutions, ISEC7 Group, today announced a new partnership with AGAT, the leader of secure collaboration solutions. AGAT´s solution SphereShield enables companies to control data and activities within Unified Communication (UC) & Collaboration services.
This partnership responds to the growing market requirement for compliant and secure collaboration solutions for enterprises of all sizes and empowers today's global workforce with analyzed messages, files, audio and video fulfilling policy enforcement.
SphereShield enables real time content inspection addressing Data Leak Prevention (DLP), Ethical Wall as well as Archiving and eDiscovery requirements. It's AI based Risk Engine, Anti-Virus and Conditional Access capabilities add significant security improvements to on-prem or cloud UC service. The solution also offers Recording Compliance Analysis with Governance and Adoption on the Roadmap.
The platform supports both, online and on prem, Skype for Business, Microsoft Teams (Office 365), Webex Teams and Meetings, Zoom, Slack and soon Ring Central. SphereShield is available as a Cloud Security Access Broker (CASB) approach on prem or as a service using deployment options of forward proxy and API. The solution integrates with leading MDM/UEM, DLP and Anti-Virus security platforms such as Symantec, McAfee, MobileIron, IBM, VMWare, Citrix, BlackBerry, F5, Forcepoint and RSA.
In addition, SphereShield provides a unique solution for securing Microsoft SSO infrastructure (ADFS) blocking DDoS and password spraying attacks.
"We're excited to partner with AGAT to help organizations secure their collaboration. It simply and highly effectively enables real time content inspection," said Marco Gocht, CEO at ISEC7 Group.
SphereShield can be tested in a free trial.
Contact | Demo | Trial
About AGAT
AGAT is an innovative software provider specializing in security and compliance solutions. AGAT's award-winning flagship product - SphereShield, is a leading software, providing control of data and activities for Unified Communication (UC) & Collaboration services. SphereShield RegTech capabilities analyze messages, files, audio and video for policy enforcement required by regulations such as FINRA, GDPR, HIPAA & MiFID II. AGAT 's client base includes government offices, banks, insurance companies and large industrial global corporations, including Fortune 500 companies
(C) ISEC7 Group & AGAT Software