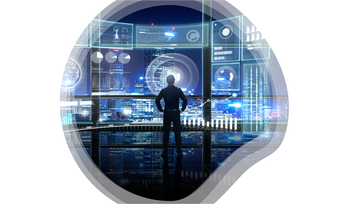 Today, businesses have various options available to provide their employees with access to enterprise apps and documents on their mobile devices while ensuring data is kept safe and secure. If a business decides to promote a Bring Your Own Device (BYOD) program, one of the best options is to use containerized applications.
Containerized apps ensure security of data, both at rest and in transit, and control how these apps communicate with other apps on the device to exchange data (e.g., allowing access to work email). However, the cons for containerized apps are the limited number of apps available and the mandatory use of a UEM solution to deploy and manage them, which comes at a higher cost.
This is where Hypori Virtual Mobility™ comes into play, a highly secure virtual smartphone solution that lets users perform business tasks on their own mobile devices with a containerized-like user experience, meaning 100% separation of personal and enterprise data. There is no need to employ UEM solutions. Most importantly, no corporate data ever leaves the company network at any point, nor is any data physically stored (zero footprint) on user devices.
You may be familiar with Virtual Desktop Infrastructure (VDI) solutions. Well, Hypori Virtual Mobility provides that same experience and makes it mobile. Enterprise work apps are provisioned inside the Hypori Client App (similar to containerization). Users employ the work apps to access enterprise data, but only graphics are sent to the device in an encrypted pixel stream via the Hypori Virtual Device from the organization's server. Touches from the device screen are translated back to the cloud and interpreted as inputs back to the virtual device screen into a document, email, etc. With Hypori, no data is ever at rest on mobile devices, but end-users are empowered to do their jobs. There is no better way to maintain data security.
Components
Hypori Client

An app that resides on the user device
Provides access to the Hypori Virtual Device
Agentless thin client to connect to a Hypori Virtual Device
Hypori Appliance or Private Cloud (SaaS)

Manages Authentication and Provisioning processes, hosts virtual devices, and exposes APIs
Provides storage services for virtual device images and user storage
Integrates with enterprise class storage 3rd party management, monitoring, and reporting tools
Hypori Virtual Device

Virtual Android based device
Runs in an isolated and secure policy backed container
Managed environment allowing installation to Play Store or other custom apps
Hypori Web Admin Console

Web UI used to manage Hypori templates, users devices



Key Benefits
Ideal for BYOD deployments
100% separation of personal and enterprise data
Zero Trust approach (no data sent to the device)
Intuitive user-experience, expedited user acceptance
Available on Apple iOS, Android, and Windows mobile devices
Reduced administrative and operational costs
Unique identifier to access enterprise data (user credentials, biometrics)
Out-of-the-box integrations with monitoring, reporting, and MDM systems
CSfC, HIPAA, PCI DSS, FISMA, NIAP compliant and Common Criteria certified
If your business is evaluating your BYOD and COPE deployment models, consider Hypori Virtual Mobility to ensure 100% separation of personal and enterprise data, military-grade security, and user-friendly BYOD without the costs and administrative complications associated with traditional products.

Please contact Hypori Virtual Mobility to learn more. We're happy to assist you!
Contact
(C) Rémi Frédéric Keusseyan, Global Head of Training, ISEC7 Group