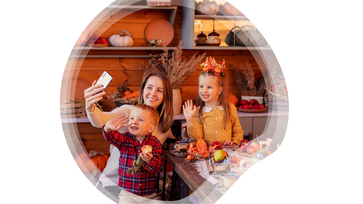 Thanksgiving is just around the corner, and even though COVID-19 will prevent many families and friends from gathering for the holidays, there is still so much for which we should be thankful.

One thing that comes to mind is how fortunate we are to experience this pandemic in 2020 rather than the year 2000, or even 2010. In today's workforce, so much data and information is stored and shared digitally. Had a pandemic hit even 10 years ago, there would have been many more late-adopter businesses scrambling to enable a remote work environment, and we likely would have seen even greater numbers of unemployment and businesses folding.
Thankfully by the dawn of 2020, many businesses had already gone through or were in the process of digital transformation – the strategic adoption of digital technologies to help businesses improve processes and productivity, deliver better customer and employee experiences, and control costs. Companies with mobility and digital technologies in place can provide their employees access to everything they need, either on-premises and/or using cloud-based services, from anywhere, and from any type of device.
The fact that many businesses, including ISEC7, were already on top of digital transformation when COVID-19 hit helped ease the necessary transition from working in-office to working from home.
ISEC7 has employees across the globe, most of them working from the office (with home office capacity), and part of them working from their home office full-time. All employees are provisioned with corporate-owned computers, mainly laptops, and mobile devices enabled for both private and work usage – what we know as the Corporate Owned Personal Enabled (COPE) deployment model. ISEC7 also has policies in place to allow Bring Your Own Device (BYOD) for employees.
When the pandemic became a global concern and cause for lockdown in March of 2020, ISEC7 had a disaster recovery plan in place (something else to be thankful for), and made the decision to relocate most of its employees to work from home, in addition to implementing staggered schedules for those still working in-office to preserve social distancing. By the time the pandemic hit Europe and the US, ISEC7 was already prepared, fully redeployed working from home, business as usual.
I'm incredibly grateful that there was no disruption in my workflow as ISEC7 uses a hybrid environment, with both an on-premises back-end infrastructure and some cloud-based services (SaaS). Furthermore, ISEC7's use of VPN technology allowed me to seamlessly go from working in an office to working from home.
As with any success story, this is not the result of magic or coincidence, but a long-term thought out strategy, wherein the necessary time, resources, and money were allocated with a unique goal: to become as mobile as possible.
Even though Thanksgiving will look different this year, there are many things to be thankful for, namely today's technologies that allow us to do pretty much anything from anywhere in real time, and the great work and effort from everyone involved in the digital workplace transformation that made it possible for us to keep working through some of the most difficult times, full speed ahead.
Contact
(C) Rémi Frédéric Keusseyan, Global Head of Training, ISEC7 Group