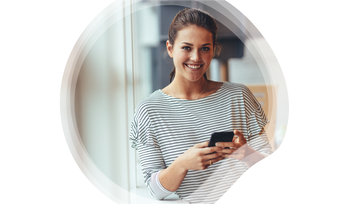 VMWare is announcing the availability of the newest on-premises release of Workspace ONE Access, version 20.10. 
This is an exciting update, as Workspace ONE Access 20.10 brings Workspace ONE Hub Services—previously available only in the cloud—to on-premises deployments of Access for the first time. 
Hub Services enables several experiences within the Intelligent Hub digital workspace application, including the Notifications, People, and Support tabs. 
Intelligent Hub is available as a native app on iOS, Android, Win10 and macOS, or as a web app. Whether you're a long time Workspace ONE UEM or VMware Horizon customer, Intelligent Hub is a great way to provide compelling employee experiences. So more ways are offered for customers to take advantage of these features. 
For the full list of updates in Workspace ONE Access 20.10, please refer to the release notes. For now, let's take a look at some of the Intelligent Hub experiences that are enabled when customers turn on Workspace ONE Hub Services via Access.
Intelligent Hub for Notifications and Home tab
Corporate communication is more important than ever, with more employees working remotely or at home in the aftermath of the pandemic. Now with capabilities such as Notifications and Home tab available in Intelligent Hub, the digital workspace can be the central point of access for critical updates from the business, HR, and more.
Employees have a personalized "For You" tab on the navigation bar of Intelligent Hub that allows them to see personalized notifications, organized by priority and date.
They can also access the Home tab, where admins can pin a URL a website sites such as a corporate intranet page, providing another way to increase engagement with news and updates.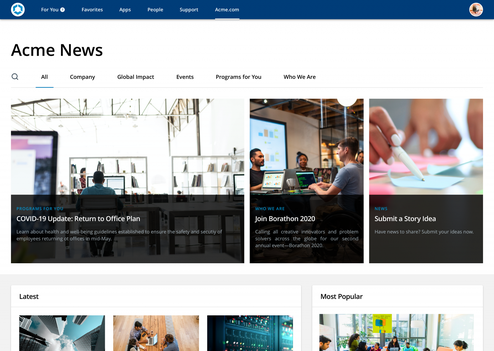 From the admin side, it is simple to create these notifications using the Notification Builder in the Hub services console. Pick a template, customize the text and actions, and deploy to all employees or a select group. If you want to do more complex notifications or script them, a robust set of APIs and documentation is available to you.
To deploy the Home tab (also referred to as the Custom tab), simply enter in the URL that you want to point them too. Documentation available here.
Intelligent Hub for Support
Another characteristic of the digital workspace that employees are asking for is the ability to self-serve. Now that organizations aren't in the same building together, and walking up to IT isn't an easy option, giving employees tools they need to self-serve allows them to work more autonomously and prevents avoidable downtime. 
Employees can now access a branded self-service page in Intelligent Hub that gives them access to manage their devices, perform troubleshooting steps, and access resources, KB articles, and FAQs for common issues.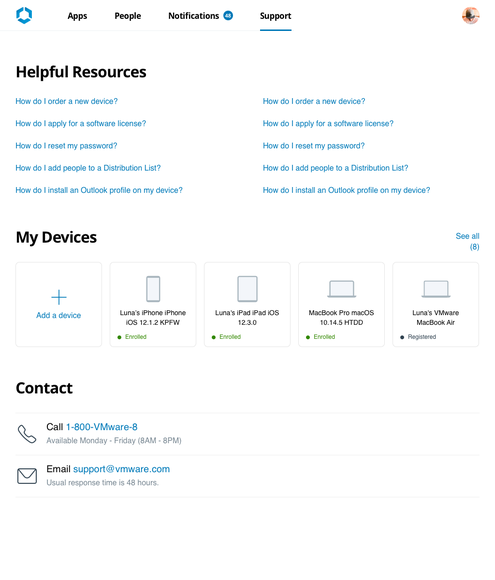 Intelligent Hub and People
With the People service, employees can now also access an embedded corporate directory with organization charts, pictures, and contact colleagues with a single click.  This helps employees stay connected with their co-workers, even if they are all working in different locations.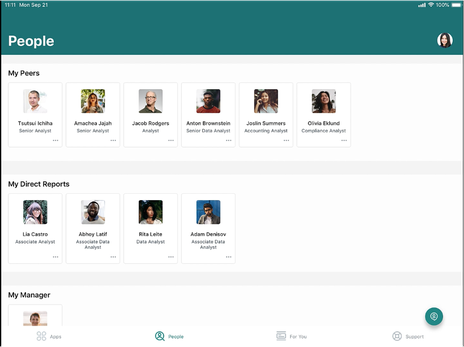 Integrate the People service as a part of your Intelligent Hub experience by federating your corporate directory with Workspace ONE Access. Then, simply turn on People in the Hub services console.   
These additional Hub services give all Workspace ONE customers the ability to continually add value to the digital workspace experience, engaging users and delivering a rich employee experience, to all employees, on any device, no matter where they are working.  

Workspace ONE Access Deployment Options
While today we've focused on the latest on-prem release of Workspace ONE Access, note that Access is also available as a SaaS service. This environment can be utilized by organizations that want to leave their UEM installation on-premises but would rather enjoy the benefits of a hosted Access instance either to decrease operating expenses of an existing installation, move to a subscription licensing mode or adopt Access for the first time. 
Of course, existing UEM customers can also choose to migrate to a SaaS service to decrease the hours associated with maintenance and testing, and instead having VMware deal with those tasks. The customer will also receive earlier access to new functionality and benefit from an agreed uptime and availability SLA. Independent analyst organization ESG recently conducted an economic validation study of Workspace ONE Access deployed in the cloud. You can download that paper here (PDF).
If you are interested in exploring VMware Workspace ONE SaaS options, please reach out to us.
Contact
Copyright:VMWare, James Millington
Source: >>
---