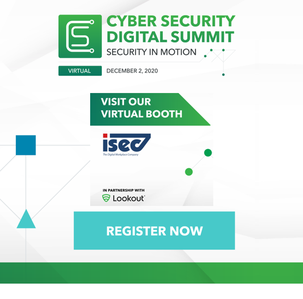 As organizations are enabling mobile productivity in the workplace, remote workers are becoming increasingly exposed to new cyber risks.
Lookout and Cyber Security Hub joined forces to organize the first cybersecurity summit dedicated to mobile security on December 2, 2020.
ISEC7 will take part with an own partner booth!
Cybersecurity professionals from around the world will have the opportunity to hear from industry experts about the most recent trends to protect corporate data. The sessions will cover strategies to tackle the rapidly developing mobile threat environment, as well as, the modern endpoint security (challenges and opportunities), the rise of phishing attacks, and zero trust best practices.
The event will be held across three time zones (SGT, GMT, and EST).
SECURE YOUR COMPLIMENTARY PLACE HERE
Join hundreds of security professionals online to learn from world-class InfoSec experts, participate in live Q&As, network and chat with your peers.
Contact
---