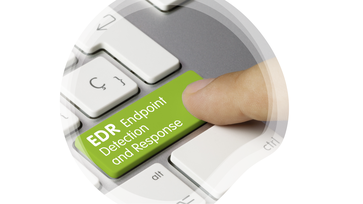 Comprehensive Endpoint Detection and Response Solution Purpose-built for Mobile
Today's cyber-attackers utilise sophisticated methods over many days or weeks to execute a data breach. Not all of these attacks involve malware or exploits, and your customers must adapt to a new kind of threat to keep their sensitive data safe.
To respond to this ever-evolving threat landscape, organisations need a new breed of tool. Lookout now launched the industry's first comprehensive mobile endpoint detection and response (EDR) solution as part of the Lookout Security Platform.
Lookout mobile EDR incorporates the unique console that researchers use to analyse ground-breaking mobile threats including Pegasus, Dark Caracal, Monokle and most recently SilkBean. By making this technology available to professionals, customers can now conduct their own forensic and hunt threats like never before.
"The endpoint protection market is undergoing a transformation that will change the way that endpoint protection is delivered, managed and adapted. Gartner predicts that by 2025, cloud-delivered integrated EDR and EPP solutions will grow from 20% of new deals to 95%" *
*Prepare for Endpoint Protection Shifting to the Cloud Report, Gartner 2020
Add proactive threat hunting to your mobile security strategy
With the increase in frequency and cost of cybersecurity breaches, security teams have shifted their focus from protect-the-endpoint to protect-the-data. In addition to blocking malware, your team needs tools to investigate file-less cyberattacks that do not use malware, and insider threats. An example is when an attacker uses credentials stolen through a phishing scam to exfiltrate data. Cyberattacks that result in a data breach rarely occur in a single event. Cyberattackers will work slowly and silently to identify vulnerabilities, steal credentials, insert malicious code like ransomware, or exfiltrate data. These steps take place across multiple endpoints, and over many weeks or months.
Mobile has opened new opportunities for cybercriminals
While many organizations have comprehensive activity monitoring for servers, desktop and laptop computers, they lack the same telemetry for iOS, Android and Chrome OS endpoints. As employees have increased their use of mobile devices for work, attacks on these devices have increased.
To be effective at stopping data breaches, security teams need the same comprehensive data for mobile endpoints that they have for servers, desktops and laptops. Because mobile operating systems never permitted kernel access and required apps to operate in isolation, it had been incorrectly assumed that collecting comprehensive telemetry was not possible. 
Benefits
Rapidly detect and respond to mobile threats
Detect attacks that don't use malware
Stop breaches that use stolen credentials
Perform security incident forensics
Contain the incident at the endpoint
Provide guidance for remediation
Proactively hunt for threats
Contact
Source: http://bit.ly/blog_201030_lookout
Copyright: lookout.com
---