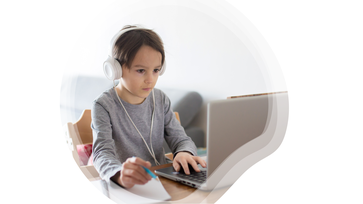 In many states, the new school year has started. While schools in some states have resumed in-person instruction, most schools are offering online options or adopting a hybrid model of in-person and remote learning. This means that students are increasingly using their parents' mobile devices to stay productive and get their homework done amid the COVID-19 pandemic, which can put company networks, infrastructure and information at risk.
While some kids will receive their own mobile devices, most students will borrow their parents' work devices to join classes via Zoom or Webex, access educational resources in the cloud, and communicate with friends. And, even if a student receives a mobile device from school, that device could break or fail to connect to a virtual classroom correctly. In that case, a parent will likely quickly rush to hand over the nearest Android device, iPad, Mac OS laptop, Windows 10 laptop, etc. so the child can join class on time, without thinking about what applications are open or what business resources the device has access to.
What's worrisome is CEOs and CIOs are not really thinking about the enterprise security impacts of parents sharing their corporate-issued and BYO devices with their children. However, a student could accidentally leak corporate data or weaponize their parent's device against a company.
Think about how easy it is to download an application. During school, kids will be encouraged to download applications from both their teachers and friends, which they will do very quickly. They will click through and answer "yes" to questions. While applications recommended by teachers will likely be educational and secure, applications recommended by friends may be questionable in nature. For example, TikTok is a very popular video sharing app that is also known to have many security vulnerabilities. Downloading TikTok on your device could not only violate corporate policy, but it could lead to corporate data leakage.
Now take a moment to consider how the COVID-19 pandemic has changed the threat landscape and driven an increase in cybersecurity attacks on mobile devices. In April, Google saw more than 18 million daily malware and phishing emails related to COVID-19 in one week alone. The FBI has also warned of a rise in phishing attacks and urged users to verify information before taking any action – especially when using a mobile or handheld device.
Unfortunately, scammers and hackers will continue to take advantage of security gaps during the era of virtual learning. And students are at high risk of falling victim to phishing attacks, which have become more creative and stealth. For example, a hacker could easily send an email, text or instant message that looks like it's coming from a teacher, but instead includes a malicious link that directs to a fake webpage that tricks a student into entering login credentials.
Parents are also at risk of falling victim to cyberattacks and accidentally putting corporate data at risk. Consider this scenario: you've got so much bandwidth demand on your home network that instead of trying to work from home, you decide to work from the local coffee shop. Do you know the network? Do you know who else is on that network? If it's an open network, all your information is vulnerable. Plus, are you sure that the website requiring a username and password to login is legitimate?
The good news is that MobileIron can help in these situations. First, MobileIron's unified endpoint management (UEM) solution ensures that a device is known and trusted, and that it has the proper applications and software on it, before granting access to a corporate network. MobileIron UEM can evaluate whether you're using the correct version of an application from a known and trusted source or a rogue application, and grant or block access accordingly.
MobileIron Threat Defense (MTD) provides another layer of security by detecting app, network and device threats. MTD offers on-device and cloud-based phishing URL database lookup to detect and remediate phishing attacks across email, text and SMS messages, instant messages, social media and other modes of communication that enable link sharing. So, even if you receive a phishing message outside of your corporate email, MTD can detect and remediate that attack if the message is viewed on a device that is enrolled in MobileIron UEM.
And last, but not least, our Zero Sign-On (ZSO) technology leverages biometrics, such as facial recognition, to confirm a user's identity. With more employees working remotely and accessing company data via mobile devices, it's both easier and more secure to leverage mobile devices than passwords for user authentication.
Layered together, MobileIron's solutions can provide seamless, secure experiences on shared mobile devices in this new virtual learning and remote work environment.
To learn more, simply contact us.
And be sure to listen to the full MobileIron Musings episode with Alex below..

Find out how you can secure your smartphones and tablets today
Scource: http://bit.ly/MI_200911
---