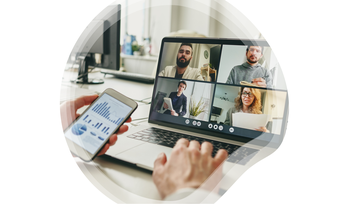 The number of devices, users, applications, and services touching workplace resources is increasing exponentially while attackers only need one vulnerability for success. Allowing employees to access sensitive data with tablets, phones, or other mobile devices also offers attackers new avenues for breaching security. The outcome of the traditional approach to cybersecurity is obvious: motivated attackers will find a weak link before an organization secures everything. 
Consider the number of vulnerabilities created by the speed and expansion of technological innovation alone. Advancements in networking made philosophies like network perimeter defense obsolete in modern times, likewise many current strategies will become outdated in the near future.
There are over one hundred billion lines of code written every year. The number of active passwords is predicted to have grown by 300 billion in the last three years. Add the steady rise of state-sponsored cyber attacks to the equation and it is clear that today's business environment is rife with cyber chaos.
These conditions all work to the advantage of threat actors, who have considerable experience discovering and exploiting new vulnerabilities. The pace of technological innovation, addition of new code and users, and growing device interconnectivity creates vulnerabilities at a rate few organizations can handle. Security analysts must scramble to address an expanding attack surface while threat actors need only find a single vulnerability to exploit.
What if organizations could turn the tables, and address the complexities of modern cybersecurity with a single solution? Now you can with the introduction of the BlackBerry Spark® Suites, which provide a comprehensive solution with a range of options tailored to meet the security and endpoint management requirements of a wide range of organizations with specific needs.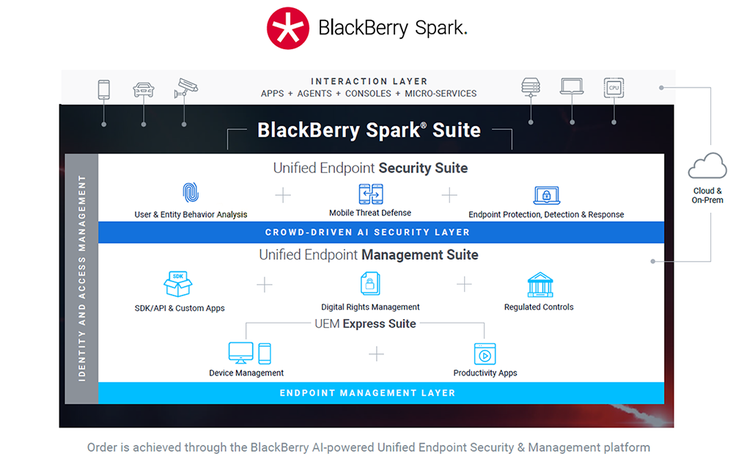 BlackBerry Spark Suites: The Convergence of UEM and UES
The BlackBerry Spark Suites are a set of comprehensive endpoint solutions built upon six pillars of cybersecurity, with each pillar focused on a specific security goal that works in harmony with the others. The six pillars are:
Endpoint Protection
Endpoint Detection and Response (EDR)
Mobile Threat Defense (MTD)
User and Entity Behavior Analysis (UEBA)
A Secure Web Gateway
Placing these six aspects of cybersecurity under a single umbrella greatly simplifies security operations. The prolific use of highly trained security AI in BlackBerry solutions also lifts a heavy load from the shoulders of IT professionals. BlackBerry's AI is proficient at identifying malicious files, alerting to suspicious endpoint activity, and monitoring user and system behavior for irregularities.
The BlackBerry Spark Suites solution set includes the following options:
BlackBerry Spark® UEM Suite: A full set of endpoint management capabilities that builds on the BlackBerry Spark UEM Express Suite (below) with the additions of Digital Rights Management, Identity and Access Management, SDK/custom apps, multi-channel notifications, and regulated controls.
A streamlined option of this offering is also available in the BlackBerry Spark® UEM Express Suite, a highly secure way to manage and secure devices and applications, including secure interoperability with Microsoft® Office 365® mobile apps.
BlackBerry Spark® UES Suite: A full set of endpoint security capabilities, including AI-driven user and entity behavior analytics, next-generation Mobile Threat Defense, Endpoint Protection, as well as Endpoint Detection and Response. Data Loss Prevention and a Secure Internet Gateway will be added to this suite in the future.
BlackBerry Spark Suite: A one-stop-shop and the gold standard for Unified Endpoint Security (UES) and Unified Endpoint Management (UEM) supporting all device types and ownership models. BlackBerry Spark Suite combines all the endpoint management capabilities of BlackBerry UEM Suite with the security prowess of the BlackBerry UES Suite in one holistic solution.
A convenient side-by-side comparison of all of the BlackBerry Spark Suites can be found here.
Zero Trust and Zero Touch
The BlackBerry Spark Suites leverage artificial intelligence, machine learning, and automation to provide improved cyber threat prevention and remediation, while offering visibility to help manage all endpoints with the highest level of security.
BlackBerry Spark Suites represents our effort to move organizations to a Zero Trust security model with a zero touch end-user experience. This model ensures the integrity of organizational systems through continuous authentication, adaptive risk scoring, dynamic policy adoption and AI-driven threat detection and response. It provides users instant access to work resources without the hassle of passwords, timeouts, special permissions, or multiple authentications.
The Zero Trust, zero touch approach addresses several failings of traditional layered security while offering numerous benefits and capabilities. For example, attackers exploiting legitimate credentials risk being discovered by behavioral AI or running afoul of mathematical detection models on the compromised endpoint.
New malware can no longer depend on a successful first victim (patient zero) when faced with the Predictive Advantage of BlackBerry's AI. Employees and power users will not seek out non-secure workarounds that impair the security posture when able to access their resources unimpeded.
For more information on the BlackBerry Spark Suites and the advantages of a Zero Trust, zero touch security model, please contact us.
Contact
Source: https://blogs.blackberry.com // Nigel Thompson
---