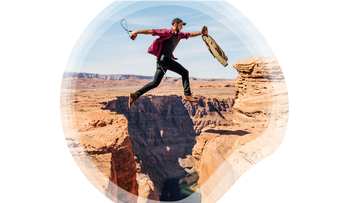 Recently customers were surveyed to find out how they are adapting to the new remote work environment. While many organizations have transitioned to a fully remote work environment, other organizations — particularly those in healthcare, law enforcement, manufacturing, retail, transportation, and utility industries — have adopted a more hybrid environment. Some employees work on the front lines, and other employees work from home. For example, in hospitals, doctors, nurses, and other medical staff work on the front lines providing emergency medicine and treating patients. At the same time, many hospital IT departments now work from home.
Regardless of where their employees are working, one learned that many companies are struggling to balance user experience with security.
Below are the top four challenges that those surveyed cited in terms of supporting their workforce:
Ensuring enterprise data is secure on the device (23.8%)
Providing remote help for end-users (17%)
Ensuring secure connectivity to the cloud or on-premise resources (13.6%)
User onboarding is challenging (12.5%)
It's clear from these findings that companies across all industries are struggling to secure company data, without impacting productivity, as their employees work from anywhere. The first and third bullets demonstrate that companies are struggling to secure enterprise data on mobile devices and grant secure access to business resources. The second and fourth bullets demonstrate that companies are struggling to ensure a seamless user experience and provide remote IT support.
The good news is that the solution MobileIron that can help enable both a seamless and secure user experience in the Everywhere Enterprise. Corporate data flows freely across devices and servers in the cloud, empowering workers to be productive anywhere they need to work.
To secure access and protect data across the perimeter-less enterprise, one can leverage a zero-trust approach, which assumes bad actors are already in the network, and secure access is determined by a "never trust, always verify" model. MobileIron's platform combines industry-leading unified endpoint management (UEM) capabilities with passwordless multi-factor authentication (zero sign-on) and mobile threat defense (MTD) to validate the device, establish user context, verify the network, and detect and remediate threats. This ensures that only authorized users, devices, apps, and services can access business resources in a "work from everywhere" world.
User experience is put at the center of mobile security. For example, there is a recently announced multi-vector mobile device phishing protection. There is no end-user action required to deploy MTD on mobile devices that are enrolled in MobileIron's UEM client; IT departments remotely manage this. As a result, organizations can achieve 100% user adoption without impacting productivity. MobileIron is the only solution on the market that can automatically deploy mobile threat protection without users needing to take any action.
To find out more how to get a comprehensive solution that fits your needs, simply contact one of our sales representatives.
Find out how to get a comprehensive solution that fits your needs
Scource: http://bit.ly/mobileiron-blog-20200819

---