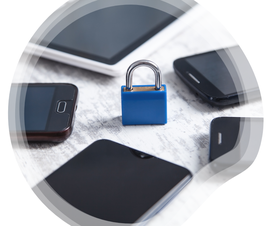 Every organization now has tablets and smartphones regularly connecting to their data. For many IT administrators, the default way to handle those devices is to deploy a Mobile Device Management (MDM) solution – which makes sense. After all, you should have an inventory of your devices and be able to manage them.
But what about when one of your employees receives a malicious phishing link on their mobile device or they accidentally install a malicious app? To complete your mobile strategy and make sure your organization is fully protected from mobile threats, you need a comprehensive mobile security solution. 
Here are the top five reasons you need mobile security 
#1 - Mobile devices operate outside of your security perimeter.
Everyone now has cloud-based productivity applications on their mobile devices, which means we're constantly accessing work data outside the traditional office perimeter.
MDMs are great at managing your devices and reducing risks of data leakage. You can locate and wipe lost devices, securely distribute enterprise apps, set policies to block apps, enforce passcodes and specify minimum operating system versions. MDMs also provide basic threat detection, such as notifying you when someone attempts to jailbreak a device. But what MDM can't do is detect and resolve advanced threats.
A comprehensive mobile security solution will compliment MDM by giving IT administrators full protection against threats and vulnerabilities that their devices have.
#2 - Phishing is way more complicated on mobile.
Smartphones and tablets have transformed the way we stay connected with our family, friends and colleagues. But the convenience has also opened doors for cybercriminals to get creative.
For example, a user with a mobile device enrolled under company management can still fall victim to a phishing attack. With access to communications channels like email, SMS messaging, internet-based messaging apps and social media, malicious links can now come from anywhere. It also doesn't help that mobile operating systems are designed with simplicity in mind, which means it's hard to identify phishing links.
In this case, there's not much an MDM can do unless it's working together with mobile security. A comprehensive mobile security solution will be able to detect and protect users from malicious attacks, keeping your organization's data safe.
#3 - Mobile security helps users resolve threats on their own.
The great thing about having a mobile security solution integrate with your MDM is that it helps users self-remediate threats, saving valuable time for your IT staff.
MDM alone can't detect threats, which means they can't notify users of the threat or guide them through steps to resolve the situations. Without mobile security, threats will continue to persist across an organization's mobile fleet resulting in an accumulation of unknown risk overtime.
#4 - Mobile security monitors devices' health in real-time.
Once an MDM has enrolled mobile devices, applied policies, and granted access to company resources, employees can use approved SaaS apps to access sensitive data. However, without continuous device-health monitoring in place, the organization is blindly trusting that its mobile fleet will remain unimpacted by threats. This blind trust is particularly dangerous in an environment where employees are permitted to use their personal devices for work, load personal apps onto a work device, and/or use the internet for personal web browsing. 
Mobile security complements an MDM by continuously monitoring for phishing, app, device and network threats. Mobile security also integrates with an MDM to restrict access to apps and data when a threat is detected.
#5 - Mobile security can help you secure employee-owned devices used for work.
Organizations that implement a bring your own device (BYOD) strategy must balance between protecting the organization's data and preserving the privacy of its employees. Privacy concerns are cited as the reason most employees will not enroll their devices in MDM. As a result, organizations often deploy Mobile Application Management (MAM) to isolate business applications on the employee's devices. 
But much like MDM, MAM does not protect against mobile threats. A comprehensive mobile security solution should be able to help secure cloud applications, such as Microsoft Office 365 and G Suite. Here at Lookout, we won't allow a device to connect to corporate data, unless the device is free of threats.
Why mobile security is needed?
These are the five reasons why mobile security can complement your organization's MDM solution.
MDM is a valuable component of an organization's mobile strategy. But you also need mobile security to make sure your sensitive data is protected. A comprehensive mobile security solution can seamlessly integrate with MDM, enabling your organization to quickly deploy it across its mobile fleet as well enforce policies to protect sensitive data.
As your business evaluates its mobility strategy and strives to ensure its remotely distributed workforce can remain productive and secure amidst rising cyberthreats, we recommend incorporating mobile security. Only having both in place will you be able to protect your organization's data and your employees privacy. 
---