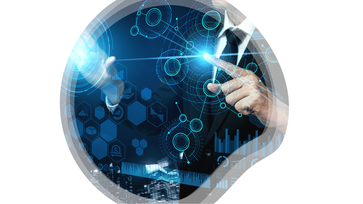 ISEC7 SPHERE enables organizations to manage and monitor their entire digital workplace infrastructure and network, and quickly identify and resolve issues — from one web-based, central console.
IT in general and mobility in particular have been accelerating at an exponential rate over the last ten years, with a pace marked by the rapid user adoption of new mobile technologies (mobile phones, tablets, wearables, etc.). Naturally, these mobile technologies later came knocking at the doors of companies, so users could seamlessly integrate this technology and benefit from all its advantages in their day-to-day life, not only on a personal level but also in a professional setting.

However, with this convenience comes a price – the ever-growing complexity of mobile IT infrastructure solutions. This entails administrators and architects needing to deal with a menagerie of mobility management tools, with assorted 3-letter acronyms (MDM, EMM, MAM, MTM, MTD, MCM, UEM, etc.), a multitude of hardware, and adapting their business process to accommodate the mobile integration and keep users engaged and productive.

Mobility is the number one productivity tool as more than 80% of daily standard business tasks today are mobile. However, monitoring and management of the mobility supply chain and users across all consoles and portals is not an easy task.

Thankfully, ISEC7 SPHERE is a holistic Digital Workplace & Mobile Service Management solution to cover all aspects of daily operations within your mobile infrastructure.
Centralized control provides large time-savings & reduction in operational costs
Proactive alerting on point-of-failures prevents potential outages & increases productivity
Identification of point-of-failures in outage alerts reduces troubleshooting time and the overall cost of downtime
End-to-end visibility results in a better user experience & fewer helpdesk calls
Mitigates security risks & monitors compliance to avoid expensive fines
Detects weak network connections to plan future investments
The solution is constantly evolving around our customers' needs, with our top use cases being:
User monitoring: No more "My device is not working" calls from your CEO

Identify root cause quicker for a selected group of key users
Move users to a different working server first (ex: email issue)



End-User monitoring

Can see from a user-centric view in the console just by searching for the user
Can use filters to get a broader scope of users in a specific environment



Compliance monitoring: Mandatory for regulated organizations (ex: government, federal agencies)

Regulations: Ensure proper approved OS in place, no rooted/jail-broken device
Tracking: Track, blacklist/whitelist phone calls and SMS (avoid info leaks)
Policy change: Track who modified a policy and integrate approval change process



Transaction monitoring

Track/trace all corporate mail traffic bi-directionally, monitor server workload
Track containerized apps (usage, crashes, standard issues, etc.)



UEM migration

o    Seamlessly move from a UEM solution to another
o    Step-by-step streamlined process for the end-user
o    Quick switchback in case of any issues



Reduce IT operations: Single console across the entire ecosystem.
No need to train your Service Desk on all products, just ISEC7 SPHERE
Speed up new product adoption and new hire training time


Multi-UEM support:  ISEC7

SPHERE

as a unique management solution for:

International deployments (EMEA, NALA, APAC)
Flexible deployment model
Company merges, hybrid infrastructure

Does your enterprise mobility come first? ISEC7 SPHERE is the key you are missing to take it to the next level.

Learn more about ISEC7 SPHERE