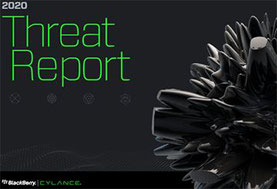 The BlackBerry Cylance 2020 Threat Report contains a broad range of topics vital to the interests of businesses, governments, and end-users.
It delivers the combined security insights of BlackBerry - a trailblazer in IoT and mobile security - and Cylance, an early pioneer of AI-enabled cybersecurity. The 2020 report examines major security trends from 2019 data and examines noted advancements in attacker methodologies with an eye toward mitigation.
It provides a high-level look at the security issues affecting the hyper-connected world of 2020, including IoT, mobile devices, user identity, embedded systems, adversarial AI, and other contemporary issues.
Key topics discussed in the report:
Continued evolution of ransomware tactics that include the increased availability of Ransomware-as-a-Service (RaaS) offerings, and instances where ransomware developers have collaborated with banking Trojan developers to exfiltrate data prior to encryption to be used to further extort victims.
The increased use of publicly available of security tools that can be used in attacks to perform reconnaissance on targets, to download the next stage of malware, for lateral movement on a network, for "living-of -the-land" attacks, and to avoid attribution.
Misconfigured cloud deployments are leaving organizations vulnerable and resulted in over seven billion records being publicly exposed in 2019.


Increased use of host-encrypted malware makes static analysis in a lab almost impossible, decreasing defenders' understanding of the malicious code and the ability for security solutions to block it.
Threat actors widely distributing attacks by compromising managed security service providers (MSSPs) and infiltrating their customers' environments.
Modern vehicles have advanced to the point where they closely resemble edge computing devices, and vulnerabilities in the supply chain, design process, and updating procedures have made them an easy target for attackers.
Deepfake technology is becoming more widely accessible, with fake personas appearing on social media sites and fake voice authorizations being used to commit fraud.
Mobile security is facing several challenges ranging from vulnerable mobile device management (MDM) servers to enterprise clients and their interaction with IOT devices.
The global attack surface is rapidly growing as embedded technology in vehicles, equipment, appliances, and other devices connect with business systems while threat actors continue to innovate new strategies and tactics.
To better understand how these threat trends should inform your organization's security posture, download the full BlackBerry Cylance 2020 Threat Report or contact our digital workplace security experts to analyze your needs. ISEC7 is a BlackBerry Cylance  Managed Security Service Provider!
-------
Reposted from BlackBerry Cylance