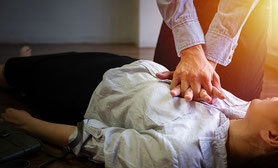 According to some European and national laws, companies in certain European countries are obliged to train operational first aiders and to keep them available in case of serious or imminent danger. The tasks of a first aider are manifold: from the initial medical treatment of injured colleagues, to the providing of information to the arriving rescue workers, to the regular inspection of first aid material.
But how do you alert first aiders in an emergency case and optimally set up the first rescue process? Companies often have no or inadequate answers to this question and the urgent call for help is done by foot or on a telephone list. In an emergency, valuable time is wasted for qualified initial communication and thus supply.
So why rely on a call-based and error-prone alarm?
Together with BlackBerry, the ISEC7 Group has developed an integration of ISEC7 Smart Buttons into the crisis communication platform BlackBerry® AtHoc®. By connecting IoT solutions such as Smart Buttons, the range of applications of the AtHoc platform is significantly expanded to include numerous use cases for everyday business transactions.
The following article focuses on the most important application: the first aid alert.
If there is a medical emergency, the person who is helping simply presses the emergency Smart Button closest to the scene of the accident. The Smart Buttons are available as a surface, flush-mounted or as a mobile version. Alarms can also be sent via smartphone. Based on the alarming, the BlackBerry AtHoc platform alerts all first aiders in the defined area automatically and simultaneously.
The alarm is triggered on a smartphone and desktop and can also be expanded by acoustic or visual alarm devices.
The advantages of a simple mass alarm via a Smart Button are obvious: On the one hand, the simultaneous alarming of all available first aiders leads to an effective and quick alarm. On the other hand, in addition to first aiders, a general instance in the company headquarters can also be informed in parallel. With just one click, all relevant persons are immediately notified and prompted for a predefined action.
For the evaluation of use cases, ISEC7 offers a standardized package solution consisting of:
A set of available Smart Buttons (surface and flush-mounted buttons and mobile buttons)
An annual license for the BlackBerry AtHoc platform for 25 users
The ISEC7 Smart Button gateway
A 3-day professional service package for initial setup and configuration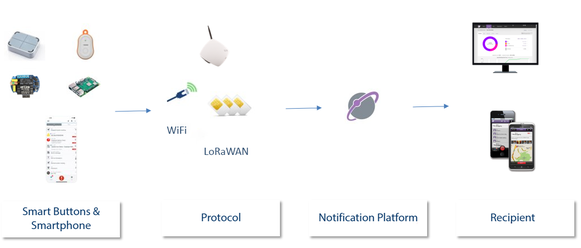 Further application scenarios for the ISEC7 Smart Buttons include:
Nursing homes / homes of elderly people  - residents who have got lost or need help can simply call for support by easily clicking on a mobile Smart Button, which they can wear around their neck
Hospitals - emergency call and information of relevant groups of people instead of just an ordinary call using the familiar button for the nursing staff
Facility management - call for repairs or cleaning required
Crisis management – enhanced coordination capabilities
If you have any questions about this solution, you can go to isec7.com/smartbuttons or ask your BlackBerry Account Manager for more information.
-------
BLOG by Henning van der Linde reposted from BlackBerry Inside Blog