In a blog entry before, we described the benefits to replace the paper based process of order confirmations with an extensive mobile solution.
But there are much more benefits to save technicians time!
The technician gets a good overview about the upcoming jobs with information from the notification and the order as well as historic malfunctions at the equipment. This enables him to bring some spare parts based on experience, so the equipment can be fixed directly on the first visit.
All relevant information about the equipment is available, including photos and documents. This saves time, due to no need to get this information by phone or by a desktop computer.
Spare parts can be searched easily based on the bill of material or by other search criteria. The spare part shows up with all relevant information, again also with photos and documentation. But also with the stock levels in warehouses relevant for the technician and the option to directly create a reservation. Ideally the spare part can then directly be picked up at the warehouse without waiting time.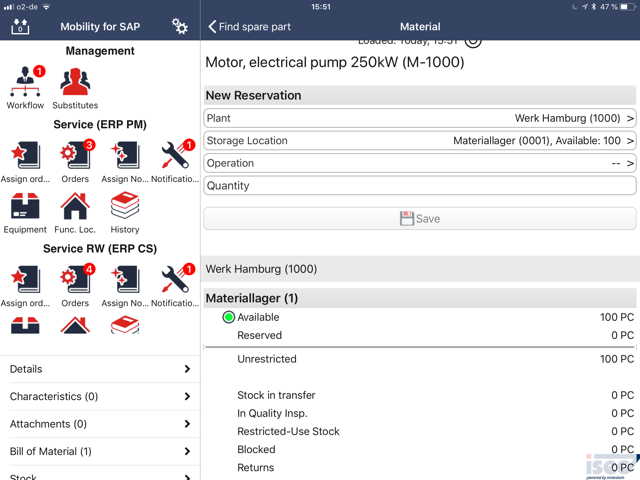 After the job is done, the technician is guided step by step through the confirmation. Photos, checklists, updates on the notification, time and material confirmations are captured as well as measurement points and other data. The data is then saved in SAP, as soon as a network connection is available again.
The easiness to enter the data saves time and increases the quality of documentation and establishes legal compliance through verifiability of performed maintenance.
Request a webex to see the functionality of the packages and to understand how easy the framework is at info@isec7.com.
Or check out a customer case study here.