ISEC7 Group (ISEC7) is sponsor of the BlackBerry Secure World
Tour 2018. It takes place in May und June in ten cities – among others, in San Francisco, Frankfurt and Sydney.

The tour is one of the most important events in the mobile sector covering all topics regarding enterprise mobility and mobile security. Points of discussion are the present technical, economical as well as social challenges in connection with data security of mobile workflows and sharing data. Attending CIOs, CSOs and business leaders will learn how to develop a holistic security strategy, with tools to enable boundary-free collaboration and best practices for digital business processes that will transform the way their organizations work.

"Today, it is business critical that employees can exchange confidentail data in a secure way. Therefore, sensitive data distributed via mobile infrastructures have to be protected against the access and attacks from outside", says Marco Gocht, CEO ISEC7. "We are happy to support the BlackBerry Secure World Tour with our longtime experience in advising our clients and partners how to securely mobilise their infrastructures."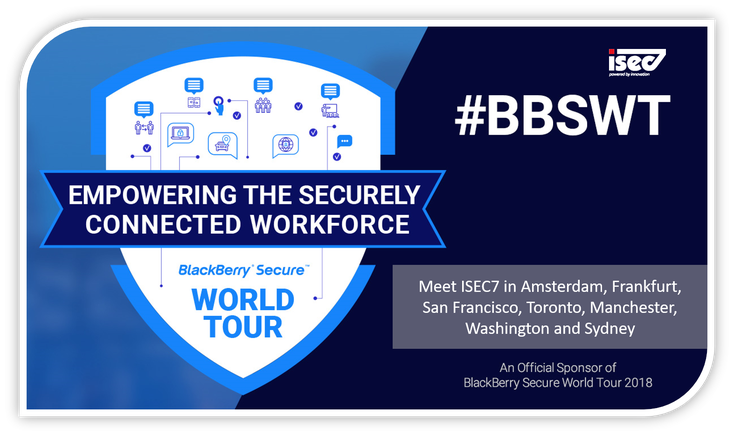 For ISEC7, first mover in the area of enterprise mobility, mobile security is a key topic. The increasing number of mobile devices and end points, hybrid infrastructures as well as the growing processing of data and documents with smartphones and tablets have raised the security needs of companies. During the BlackBerry Secure World Tour 2018, ISEC7 will take part in selected appointments in North America, Australia und Europe:

May 3, in San Francisco
May 10, in Toronto
May 10, in Manchester
May 15, in Frankfurt
May 15 in Washington
June 7, in Sydney
June 12, in Amsterdam
Register with Code BBSWT1717 for Australia  Europe   North America 

For more than 13 years, ISEC7 has been the strategic and globally active partner of BlackBerry offering services, software solutions and support for the BlackBerry Mobility Plattform to over 1,300 clients. ISEC7 is BlackBerry Shield Advisor and specialist for cyber security services as well as mobile forensics . Furthermore, the company has received the platinum status as one of the first partners of the "BlackBerry Enterprise Partner Program".