The Crisp Research Report 2017/2018 names the enterprise mobility expert as one of the best service providers for enterprise mobility transformation & service.

ISEC7 Group (ISEC7), enterprise mobility expert from Hamburg, is one of the best service providers for enterprise mobility transformation & service according to the independent IT research and consulting company Crisp Research AG. In its current report "Crisp Vendor Universe, Enterprise Mobility Supplier and Service Provider", ISEC7 is positioned as an accelerator in the market - with its combination of partner solutions and proprietary applications. Thus, ISEC7 is the study's leading distinct EMM solution provider.
Divided in two main categories, "Vendor Performance" and "Service Value Creation", Crisp Research analysed the provider's strategic focus in the respective market environment, its strategy, the number of partners and the collaboration with them. Furthermore, products as well as service offerings were assessed – from the spectrum of the provided services through to the usability of the single product.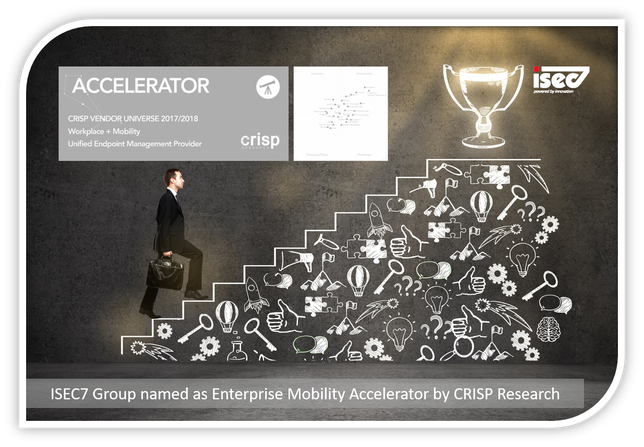 Dr. Carlo Velten, CEO Crisp Research AG says: "ISEC7 asserts itself as one of the leading providers for enterprise mobility and digital workplaces with its very individual strategy. The high expertise in the area of mobile solutions, particularly, in the field of mobility management, is underlined by ISEC7's service and software competence in an optimal way. Furthermore, ISEC7 is able to deliver on a global scale and to realise high-quality and high-performance mobility environments by integrating into existing IT architectures."

"We are proud to have been again awarded by Crisp Research and listed as one of the leading service providers for enterprise mobility transformation & service", says Marco Gocht, CEO ISEC7 Group. "We are working continuously to improve our professional services and innovative software solutions. This placement is an important acknowledgement for us showing that our investments pay off. Also, it is an incentive to further expand our leading position in the market. Without the trust of our clients and the untiring motivation of our employees, this would not be possible. For this, we are thankful."
Being one of the few providers, ISEC7 combines several of its partner solutions in an enterprise mobility framework. The platform consists of different partner suites' modules and ISEC7's own add on services like the ISEC7 EMM Suite. In a hosting model, these can be controlled from a high-secure computing center.

Moreover, ISCE7 offers several apps and services in the area of mobile working – e.g. on the basis of SAP – as well as integration services for Office 365, which are completed with ISEC7's range of services.

With a team of experienced analysts, consultants and software architects, Crisp Research identifies and evaluates the relevance and disruptive force of digital technologies as well as its providers. The "Crisp Vendor Universes" supports companies in selecting technologies and providers with a clear estimation of strengths and weaknesses. A transparent methodology, independent research and proprietary implementation skills are the basis for comparing providers and products.

For more information, follow the link
https://www.crisp-research.com/vendor-universe/
Request the Crisp Research Enterprise Mobility Study 2017/18 (German only)