The enterprise mobility expert ISEC7 has become a BlackBerry Workspaces Specialist of the BlackBerry Enterprise Partner Program for Solution Providers.
Hamburg, September 15, 2017 – ISEC7 Group (ISEC7) announced today it will become a new BlackBerry Workspaces Specialist for Europe. As a BlackBerry Workspaces Specialist, ISEC7 Group will enable companies to securely access content anytime, anywhere, and file share inside and outside their organization. This specialization validates ISEC7's technical competency in BlackBerry Workspaces and the growing EFSS market.
Marco Gocht, CEO ISEC7 Group, explains: "Companies need to mobilise their data to respond to current market requirements. In times of rising cyber attacks and higher IT compliance demands, enterprises need to raise their awareness of mobile security issues. By becoming the new BlackBerry Workspaces Specialist we can help our customers to secure their shared files and content to a higher extent. "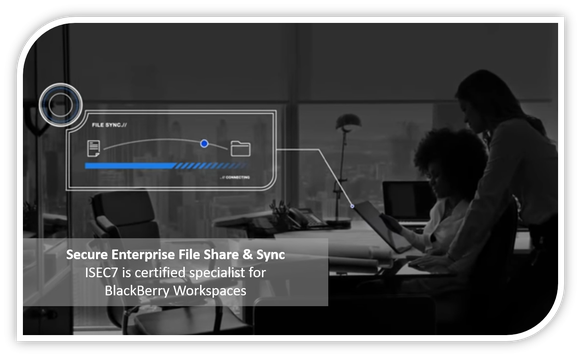 BlackBerry Workspaces is the leader in Secure Enterprise File Sync & Share (EFSS). What makes BlackBerry Workspaces different from competitive solutions is its file-level security. It offers 256-bit file encryption and access controls to ensure that only authorized users can access files—even after they leave the network. BlackBerry Workspaces also embeds Digital Rights Management (DRM) protection into files, so content remains secure and within your control, even after it's downloaded and shared. With a secure file store and the ability to transfer data while maintaining control, employees and IT alike can be confident in data sharing and document security.
ISEC7 has been a strategic and global partner for BlackBerry for more than 13 years and delivers services, software solutions and support for the BlackBerry mobility platform to more than1,300 business customers.