Perfect timing: At this year's Mobile World Congress (MWC) with the theme "Mobile: The Next Element", the enterprise mobility expert ISEC7 Group presented the new version of its successful EMM Suite for efficiently monitoring and managing EMM solutions. The new version is available now.
The ISEC7 EMM Suite is a highly effective, platform independent and web-based hybrid EMM management and monitoring suite. It supports companies in operating their mobile infrastructures. The solution is comprehensive and globally applicable and has been awarded as "Most Innovative Enterprise Application" by the UEM manufacturer BlackBerry. The new version convinces with supporting further EMM solutions, higher
performance and a new design.
Marco Gocht, CEO ISEC7 Group, explains: "The high quality of our EMM solutions reflects our long-time experience and specialisation in this area. We are committed to a comprehensive approach to enterprise mobility management. With the ISEC7 EMM Suite, we ensure the high availability and an uninterrupted operation of mobile infrastructures in companies. This is the basis for the next level of mobile working – mobilising business processes with apps in the course of digital transformation."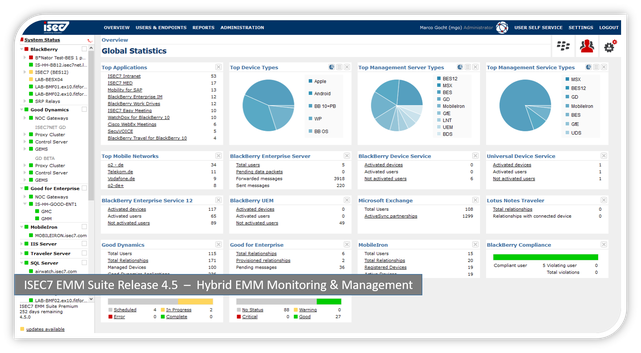 The current release of the ISEC7 EMM Suite offers:

• Performance - Significant performance improvement for large mobile infrastructures with more
than 100,000 devices
• ActiveSync Monitoring - Monitoring of the ActiveSync connections between the mobile device and the mail
system for an improved fault analysis, stress behaviour and detailed connection data on the device level
• Support of further EMM solutions - Support of further EMM solutions and versions with BlackBerry UEM (12.6), Good Dynamics and AirWatch (Beta-status)
• New design - Updated user interface of the ISEC7 EMM Suite for a simpler and easier
administration