The ISEC7 Group, enterprise mobility expert from Hamburg,
has been named as one of the best service providers for Unified Endpoint Management (UEM) according to Crisp Research AG, an independent IT research and consulting company.

Within the recent report "Crisp Vendor Universe, Enterprise Mobility Provider and Service Provider", the ISEC7 Group is positioned as an accelerator in its market combining partner solutions with its own applications.
Crisp Research has analyzed the two main categories "Vendor Performance" and "Service/Product Value Creation". Beside others features, the strategic focus of the provider in its market environment, its strategy
and the number of partners as well as their cooperation were considered. Also, the product and range of services has been evaluated – from the spectrum of usability of the product.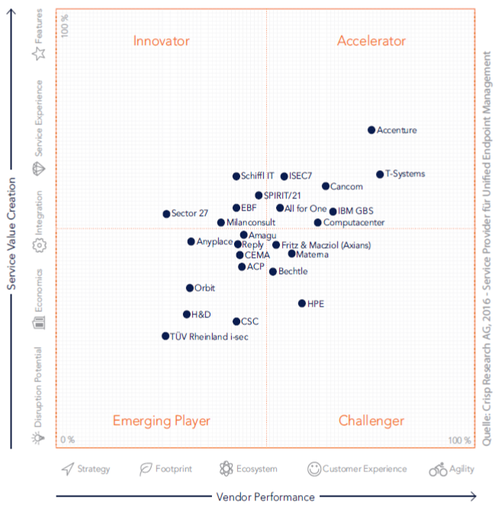 "It makes us very proud to be listed by Crisp Research as one of the leading Service Providers for Unified Endpoint Management", says Marco Gocht, CEO ISEC7 Group. "This placement is an important confirmation of our professional services and innovative software solutions. We would like to thank our costumers for their confidence and our staff for their dedicated commitment in a highly dynamic market. Furthermore, the award
motivates us to further extend our leading position in the market."

Dr. Carlo Velten, CEO Crisp Research, says: "Developing of mobile and digital workplaces and business models are the most important disciplines on the way to a digital connected organization. The ISEC7 Group closes the gap between solid Unified Endpoint Management and realization of individual EMM solutions, which are essential for many customers in a mobile world that becomes more and more complex."
Read the full press release here
ISEC7 named as leading Service Provider for UEM by Crisp Research
Press_Release_ISEC7_Crisp_UEM_Leader.pdf
Adobe Acrobat Document
176.2 KB