The ISEC7 Group, enterprise mobility expert from Hamburg/Germany, has received the Mid-Market Achievement Award 2016 by the
magazine Corporate Vision (CV). Being presented for the first time, the award turns a spotlight on a variety of firms operating in the middle class.

All of them have a strong focus on success. The awarded companies generate considerable revenue, offer exceptional products and services and support a wide range of clients. The ISEC7 Group has received
the award for being the Best Global Enterprise Mobility Providers 2016, according to CV.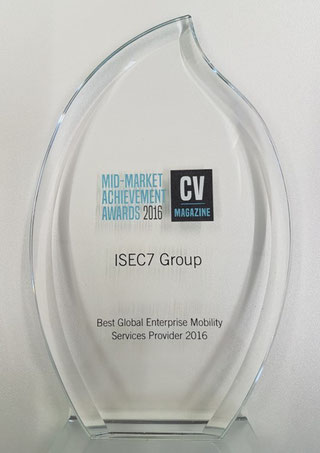 Marco Gocht, CEO ISEC7 Group, says: "Receiving the Mid-Market Achievement Award 2016 by CV makes us extremely proud. We are highly specialized and focus on enterprise mobility. We offer a 360-degree mobility portfolio including infrastructure, professional services, managed services, app development and mobilization of business processes. Beside our portfolio, our international footprint is unique for a company of our size.
Operating our own legal entities in NA, EMEA and APAC, we can serve mid-market companies and large enterprises who run businesses on a global level."

Naomi Douglas, Awards Coordinator, commented: "This awards programme recognises the hard work of those in the Middle Market, and their continued professionalism and dedication. I am happy to be able to acknowledge our deserving winners, and wish them continued success in the future."
Read the full press release here
ISEC7 Best Global Enterprise Mobility Provider 2016
Press_Release_ISEC7_Mid-Market_Award.pdf
Adobe Acrobat Document
174.2 KB